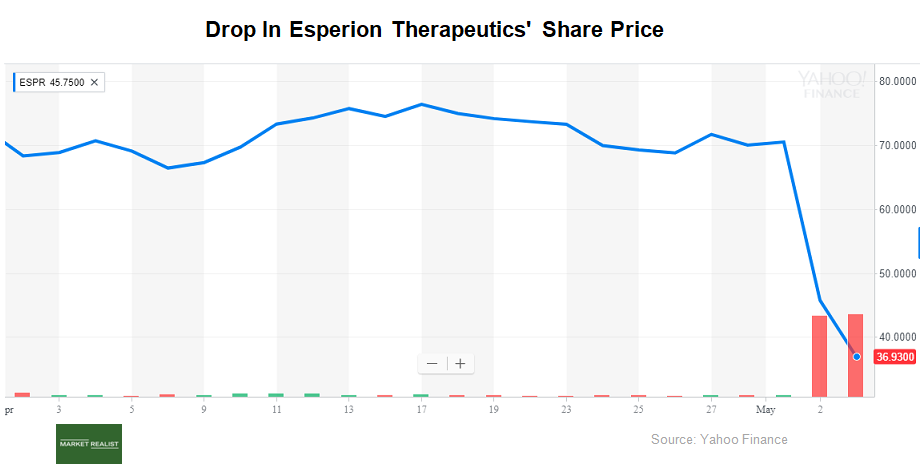 Analyzing the Research Pipeline of Esperion Therapeutics
By Kenneth Smith

May. 4 2018, Updated 6:08 p.m. ET
Clinical programs
Esperion Therapeutics' (ESPR) lead product candidate is an ezetimibe combination pill, a targeted therapy that has shown significantly lower elevated LDL-C in patients with hypercholesterolemia.
The combination therapy's clinical development program consists of a pivotal Phase 3 study. The study was initiated in November 2017 and was fully enrolled in March 2018. Esperion expects top-line results from this study in August 2018.
Article continues below advertisement
Bempedoic acid clinical programs
Esperion Therapeutics' development program for bempedoic acid consists of four clinical studies. These are fully enrolled studies with ~3,600 patients with hypercholesterolemia, atherosclerotic cardiovascular disease (or ASCVD), or heterozygous familial hypercholesterolemia (or HeFH).
Esperion reported top-line results from the first of the Phase 3 studies in March, Study 4 (or 1002-048). The company reported top-line results from Study 1 (or 1002-040) which was a 52-week long-term safety study in May 2018. Esperion expects to report top-line results from Study 3 (or 1002-046) in late May and from Study 2 (or 1002-047) in September.
Esperion Therapeutics plans to use positive results from these programs with 4,000 patients globally. These results are expected to support regulatory submissions for LDL-C lowering indications in the US by 1Q19 and in Europe by 2Q19.
CVOT trial
Esperion Therapeutics is conducting a global cardiovascular outcomes trial called CLEAR for bempedoic acid in patients suffering with hypercholesterolemia and who can be considered statin intolerant. The trial was initiated in December 2016 and is expected to be fully enrolled in 2019. Esperion intends to use positive results from this trial to support submissions for a cardiovascular risk reduction indication in the US and Europe by 2022.
Drug safety concerns
In the first week of May, the stock price of Esperion Therapeutics fell ~50.0% after the company reported clinical data for bempedoic acid, which showed that of the 742 patients who received placebo, two patients had died. Of the 1,487 patients who received bempedoic acid, 13 patients had died. This is triple the death rate compared to placebo.
In the final part of the series, we'll take a look at the financial performance of Esperion Therapeutics.