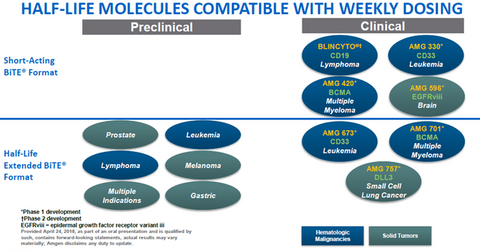 Amgen Focused on Advancing Oncology Research Programs in 2018
By Margaret Patrick

Updated
MRD and BiTe platform
The FDA has approved Amgen's (AMGN) Blincyto to treat minimal residual disease (or MRD) greater than or equal to 0.01% in B-cell precursor acute lymphoblastic leukemia (or ALL) patients. It's expected to prove practice-changing in the treatment of ALL. The availability of technologies for detecting residual disease at the molecular level, coupled with the predictive power of MRD in the prognosis of ALL patients, has highlighted the importance of Blincyto's latest label expansion.
In the Phase 2 BLAST trial, 81% of MRD-positive patients in complete remission demonstrated MRD negativity after being treated with a single cycle of Blincyto. Amgen also plans to incorporate MRD in its other research programs.
The above diagram shows Amgen's ongoing oncology research programs on its BiTE platform.
Article continues below advertisement
Oncology research program
Amgen aims to develop therapies in small cell lung cancer (or SCLC), an aggressive disease that accounts for 10%–15% of all lung cancers and has a very poor prognosis. With the absence of major breakthroughs or the launch of effective therapies in this area, SCLC represents a significant underserved opportunity for Amgen.
Amgen is currently exploring two modalities with a half-life extended BiTE therapy. Both investigational therapies target DLL3 (Delta-like 3), an antigen demonstrating high specificity to SCLC. While Amgen is currently enrolling test subjects in its Phase 1 trial for AMG 757, the company expects to begin enrollment for its Phase 1 trial of AMG 119 in the coming months.
Amgen also expects successful results from its immuno-oncology programs targeting the DLL3 antigen.
Amgen is currently focused on developing a treatment option in the acute myeloid leukemia (or AML) indication, a disease that has an annual incidence of 20,000 and results in 10,000 deaths every year in the United States. The company presented promising results at an American Association for Cancer Research meeting in a pre-clinical setting, evaluating the combination of venetoclax, the Bcl-2 inhibitor, with AMG 176, an Mcl-1 inhibitor. Amgen is also enrolling patients in a Phase 1 trial to evaluate AMG 176 in relapsed or refractory AML or MM patients.
A strong research pipeline is expected to help Amgen compete effectively with other established oncology players, including Pfizer (PFE), Celgene (CELG), and Johnson & Johnson (JNJ).
In the next part, we'll look at the growth prospects for Amgen's Neulasta, Enbrel, and erythropoiesis-stimulating agents.