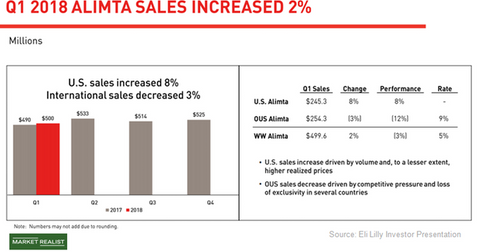 Alimta: An Emerging Drug to Treat Lung Cancer
By Margaret Patrick

May. 7 2018, Updated 10:15 a.m. ET
Alimta in NSCLC indication
On April 30, the FDA granted priority review status to the sBLA (supplemental biologics license application) seeking approval for the combination of Merck's (MRK) Keytruda, Eli Lilly's (LLY) Alimta, and platinum-based chemotherapy agents like carboplatin or cisplatin in first-line metastatic NSCLC (non-squamous non-small cell lung cancer) indication. The Prescription Drug User Fee Act's date is September 23. The sBLA is based on data from the Phase 3 KEYNOTE-189 trial declared on April 16. The trial highlighted the significant improvement in overall survival and progression-free survival in patients treated with the Keytruda-Alimta-chemotherapy combination regimen.
Article continues below advertisement
The above chart highlights Alimta's revenue performance across the US and international markets. Currently, Alimta is approved in the US as maintenance therapy in metastatic NSCLC indication, in combination with cisplatin in first-line locally advanced or metastatic NSCLC indication, and in combination with cisplatin in malignant pleural mesothelioma indication.
Cyramza's growth prospects
In 1Q18, Cyramza reported total revenues close to $184 million, which is a rise of 7.6% YoY (year-over-year). The drug witnessed a 3% YoY rise in revenues from the US market, while revenues from international markets rose 10% YoY in 1Q18.
Cyramza is approved across the world as a monotherapy or in combination with the chemotherapy agent, paclitaxel, in second-line advanced or metastatic gastric cancer or gastroesophageal junction adenocarcinoma indications. The drug is also approved by the FDA in second-line NSCLC and second-line colorectal cancer indications.
In 2017, Cyramza's brand grew ~23% YoY due to solid uptake in Japan, which has a relatively higher prevalence of gastric cancer. The drug accounts for ~60% of the second-line gastric cancer market share in Japan. Cyramza has enabled Eli Lilly to compete effectively with other gastric cancer players Roche Holdings (RHHBY) and Sanofi (SNY).
About 40%–44% of Cyramza's usage in Japan is from NSCLC and colorectal cancer indications. The drug accounts for a lower double-digit market share in these indications in Japan. There's a significant growth opportunity for the drug in these indications.
Next, we'll discuss Cyramza's ongoing research programs.