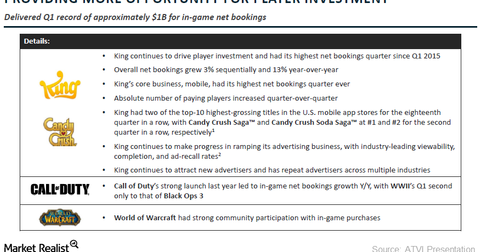 Activision Blizzard's Overwatch and Call of Duty Leagues' Success
By Adam Rogers

May. 22 2018, Updated 1:10 p.m. ET
Overwatch League launched earlier this year
Activision Blizzard (ATVI) launched Overwatch League in January 2018, and it continued to generate strong viewership globally. Its viewership is expected to rise as the playoffs take place later this summer. Overwatch League has driven player engagement for the Overwatch franchise as the number of hours spent playing and watching this game rose sequentially.
This league continues to announce new engagement programs aimed at driving viewing experiences. When Overwatch League launched in January, it attracted 10 million viewers in the first four days of the event with an average viewership of 280,000 on a per-minute basis.
This early momentum bodes well for stakeholders, as it creates value for players, sponsors, team owners, and partners.
Electronic Arts (EA) is also looking at eSports as a new channel or segment to generate additional and incremental revenue. Call of Duty World League completed stage one in April and attracted strong viewership as well.
Article continues below advertisement
Player investment
Activision Blizzard delivered a first-quarter record of $1 billion for in-game net bookings in the first quarter. Activision's Call of Duty managed to grow its in-game net bookings year-over-year, driven by its latest game that was released in 2017.
King's mobile business saw record net bookings in the first quarter. Total net bookings rose 3% sequentially and 13% year-over-year to their highest level since Candy Crush Soda Saga was released.
King had two of the top-ten-grossing titles in mobile US app stores for the eighteenth consecutive quarter. King is focusing on ramping up its advertising business with industry-leading viewability and ad recall rates. According to Activision's press release, "King continues to attract new advertisers and has repeat advertisers across multiple industries."
King is a leading developer of online interactive content and services on mobile platforms such as Android (GOOG)(GOOGL) and iOS.