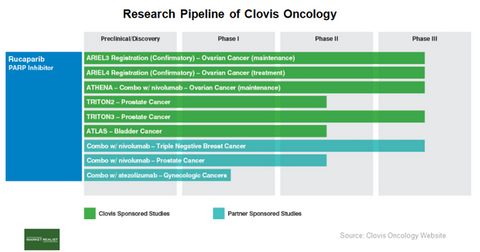 A Look at Clovis Oncology's Clinical Programs
By Kenneth Smith

Updated
Rubraca
The FDA's approval of Clovis Oncology's (CLVS) Rubraca (rucaparib) for the maintenance treatment of patients with recurrent epithelial ovarian, fallopian tube, or primary peritoneal cancer in April was the second and much broader indication the drug has been approved for. It received priority review based on positive Phase 3 clinical trial data. Unlike for its first indication, diagnostic testing is not required for patients to be prescribed Rubraca for this maintenance indication.
Article continues below advertisement
In March, the EMA's (European Medicines Agency) committee for medicinal products gave a positive opinion on granting conditional marketing authorization for Rubraca as a monotherapy for adult patients with relapsed and platinum-sensitive BRCA[1.breast cancer susceptibility gene]-mutated high-grade epithelial ovarian, fallopian tube, or primary peritoneal cancer who have received two or more platinum-based chemotherapies and are unable to tolerate more.
Clovis Oncology expects to receive marketing authorization for Rubraca for this indication in Europe in the second quarter. After this approval, Clovis intends to submit a variation to the marketing authorization for the maintenance treatment of patients with these target indications to the EMA.
Lucitanib
Lucitanib, another product candidate in Clovis's pipeline, is an oral inhibitor of tyrosine kinase activity of vascular endothelial growth factor receptors, platelet-derived growth factor receptors, and fibroblast growth factor receptors.
The drug was originally developed by Clovis and Servier. However, data in breast and lung cancer were insufficient to take the program forward. Consequently, Servier notified Clovis that it would be returning the global rights to lucitanib, excluding China, to Clovis later this year. In the next part of this series, we'll look at Clovis's ARIEL4 and TRITON research programs.