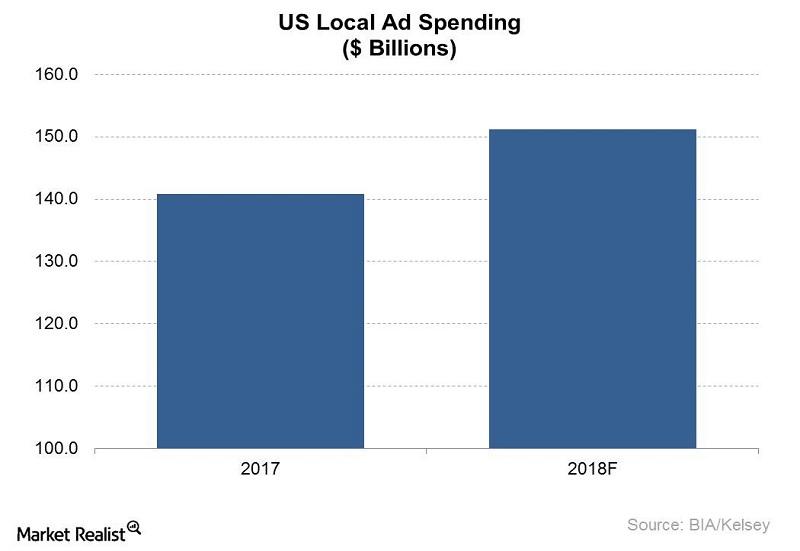 Yelp Wi-Fi and Nowait Could Cause $25 Million Loss in 2018
By Neha Gupta

Nov. 20 2020, Updated 5:24 p.m. ET
Growth investments to lead to losses
Yelp (YELP) is hoping that Yelp Wi-Fi and Nowait, the two businesses it acquired about a month apart in 2017, will drive long-term growth and profitability by enabling it to capture more local advertising budgets. In the meantime, Yelp expects to lose money through Yelp Wi-Fi and Nowait.
In 2018, for instance, Yelp expects to incur operating losses of $20 million–$25 million due to investments it plans to make in Yelp Wi-Fi, Nowait, and Yelp Reservations to drive growth.
Article continues below advertisement
Yelp Wi-Fi is a location-based digital marketing service. With Yelp Wi-Fi, which was originally known as Turnstyle Analytics, businesses can capture useful data through Wi-Fi connections to drive repeat visits to their stores. Nowait is a restaurant waitlist system that is presented as a complement to Yelp Reservations, which restaurants use to enable customers book tables.
Local advertising market continues to swell
Yelp has identified the restaurant category as a key segment of local business, where it wants to deepen its penetration. According to a BIA/Kelsey study cited by eMarketer, local ad spending in the United States is set to increase 5.2% this year to $151.2 billion. US local ad spending was estimated at $140.9 billion in 2017. Digital ads are expected to account for 35.3% of total US local advertising budgets in 2018.
Amazon and Facebook encroaching on Yelp's territory
Yelp is aware that competition for local advertising dollars is growing as e-commerce providers such as Amazon (AMZN) and Groupon (GRPN) and social media companies such as Facebook (FB) and Twitter (TWTR) are stepping up their campaigns to woo local businesses.
As part of courting local businesses, Facebook began rolling out its Find Wi-Fi feature broadly last year. Find Wi-Fi enables users to discover businesses that offer free Wi-Fi.