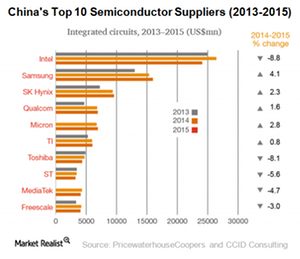 Would China Buying More Semiconductors from US Reduce Trade Deficit?
By Puja Tayal

Apr. 5 2018, Updated 7:32 a.m. ET
The catch behind China's offer to buy more semiconductors from the US
Given that global semiconductor revenues reached $400 billion in 2017, China's (FXI) proposal to increase semiconductor imports from the US appears positive. However, there's a catch.
If China buys more chips from the US, it would shift its chip purchases from South Korea (EWY) and Taiwan to the US. More than 95% of the semiconductor revenue in South Korea comes from Samsung (SSNLF) and SK Hynix, both of which manufacture memory chips. So any replacement of purchase orders from South Korea would be for memory.
Article continues below advertisement
In Taiwan, five companies account for over 50% of Taiwan's chip revenue. Of the five companies, two manufacture application-specific standard products, the volume of which is relatively modest compared to the trade volume between the US and China. One manufactures display drivers that aren't manufactured by any major US chip company, and the remaining two manufacture memory chips. Thus, China could shift most of its memory chip purchases to the US.
Only four US-based companies manufacture memory chips: Intel (INTC), Western Digital (WDC), Micron Technology (MU), and Cypress Semiconductor (CY). The memory market is already suffering from undersupply, and more purchases from China would make it difficult for US memory chip companies to meet the demand. This means there would be no major increase in China's imports from the US.
The US proposes other methods
Thus, the US has proposed other methods to reduce the trade deficit. The US has asked China to improve its IP (intellectual property) protection to protect US companies from IP theft. According to the National Bureau of Asian Research's latest update on its 2013 report, the US economy lost up to $600 billion in IP theft, of which an estimated 50%–80% of cases were caused by China.
The US is also asking China to allow US companies to access the Chinese market and be more competitive by not forcing them to enter into a joint venture with domestic companies and transfer technology to them. China could also show its cooperation by approving the Qualcomm-NXP Semiconductors deal.
These proposals have not yet been approved by China. But the US is not going to sit quietly. If China doesn't negotiate better terms, the US could continue to impose tariffs on Chinese imports and might resort to more drastic measures.