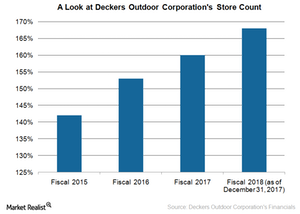 Why Deckers Is Reducing Its Store Footprint
By Victoria Dean

Updated
Store base rationalization
Deckers (DECK) is emphasizing retail store closures despite labeling them as a vital component of the company's omnichannel strategy. The company argues that a reduction in stores is in sync with the changes that the retail sector is undergoing currently. Though brick and mortar stores continue to be the major contributor to overall sales, digital sales have started to gain traction. Moreover, the company expects to generate substantial cost savings through store closures.
Article continues below advertisement
The company expects most of the store closures to come through natural lease expirations. Under the restructuring plan announced in 2016, the company has shut down 27 retail outlets as of December 31, 2017. The company has a long-term goal of operating 125 stores by fiscal 2020. As of December 31, 2017, the company operated 168 retail stores worldwide including 101 concept stores and 67 outlet stores.
Long-term financial targets
Under the restructuring plan, which includes store closures, realignment of brands, and streamlining of operations, the company aims to achieve $2 billion in sales and an operating margin of 13% by fiscal 2020. The company expects to achieve $85,000 in SG&A (selling, general, and administrative) expenses savings by fiscal 2020. As of December 31, 2017, the company has achieved $45,000 of annualized SG&A expense savings driven by lower payroll and related benefits, rent and occupancy costs, as well as a reduction in other operating costs.
Many retailers are closing stores
Many retailers are closing stores as retail gets disrupted by technology. Online shopping has led to less mall traffic and dwindling store sales. Under these circumstances, retailers ranging from Macy's (M) to JCPenney (JCP) to Sears (SHLD) have resorted to store closures to reign in expenses.
On the other hand, some retailers like Dick's (DKS) are slowing down store base expansion to open new stores in more favorable locations and on favorable terms. The company is focusing on new and underpenetrated markets where many retailers like Golfsmith, Sports Authority, and Sports Chalet have liquidated their stores as the location for its new stores.