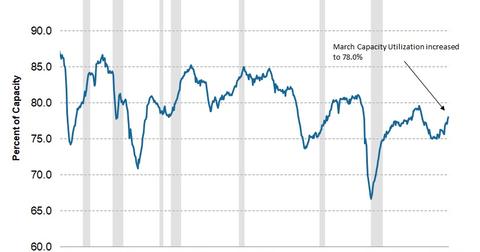 What March Capacity Utilization Data Says about Economy
By Ricky Cove

Updated
Capacity utilization and the US economy
The Federal Reserve publishes capacity utilization data along with industrial production data for US industries every month. Capacity utilization change is one of the few economic indicators that acts as a leading indicator for the economy and helps in predicting changes to the US business cycle.
Capacity utilization, as the name suggests, is the percentage of capacity utilized of the total potential output. In the US, the historical average for capacity utilization stands at 79.8%, the highest level of capacity utilization in the 1988–1989 period. Among the US industrial sectors, the mining (PICK) and utilities (IDU) sectors have the highest historic capacity utilization rate of 87.0% and 85.4%, respectively.
Article continues below advertisement
Capacity utilization in March
As per the industrial production and capacity utilization report published by the Federal Reserve, the total industry capacity utilization in March increased from 77.7% in February to 78.0%. The mining industry, which includes gas and oil exploration, recorded its highest-ever capacity utilization of 90.1%. The utility sector (VPU) on the other hand has witnessed a fall in capacity utilization to 79.0%, below the sector's long-term average of 85.3%. The capacity utilization in the manufacturing sector drooped by one basis point to 75.9% in March, but the sector posted an annual gain of 0.8%.
Industrial production, capacity utilization, and inflation
Capacity utilization and industrial production data are strong forward indicators of economic activity. The capacity utilization in US industry (XLI) has risen 1% in the last 12 months, a healthy sign that US industry is expanding. The reasons for this expansion could be many, but the recent increase coincides with tax cuts and the deregulation in the mining sector. A simultaneous increase in industrial production and a decrease in unemployment could lead to higher wages in the future. Higher wages increase the disposable income of the workforce, which leads to increased aggregate demand and thus higher inflation (TIP) and higher interest rates.