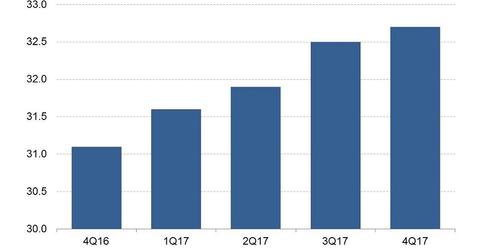 What Groupon's Hebron Facility Lease Renewal Means
By Neha Gupta

Updated
Groupon extends lease for Hebron hub
Groupon (GRPN) will continue to call Northern Kentucky home after renewing the lease for its fulfillment hub in Hebron, Kentucky. The lease renewal means that Groupon is set to continue to occupy the 330,000-square-foot building for five more years, until 2023.
The Hebron fulfillment center has served as Groupon's hub since 2013, and the company has shipped more than 20 million items to US and Canadian customers from the hub. Groupon renewed the lease for the Hebron facility to enable it to stay close to much of the American population. Groupon's Hebron hub is located within a day's drive or 90-minute flight from two-thirds of the US population. Therefore, the Hebron facility is a key piece of Groupon's logistics network.
Article continues below advertisement
Speed is reshaping e-commerce competition
Groupon is not alone in investing to stay close to its customers so that it can deliver orders faster. At a time when shipping speed has become a key factor in the decision to shop online, we've seen e-commerce providers ranging from Amazon (AMZN) and Walmart (WMT) in America to Alibaba (BABA) and JD.com in China investing in faster delivery.
In February this year, Amazon began delivering groceries from Whole Foods stores through its free two-hour Prime Now delivery service. In March, Walmart said it was expanding its online grocery delivery service to cover more than 40% of US households. Walmart's online grocery delivery service can ship orders in as little as three hours.
Alibaba and JD.com are buying or partnering with supermarket operators and using drones to enable them to speed up deliveries. Groupon had 32.7 million active customers in North America at the end of 4Q17.