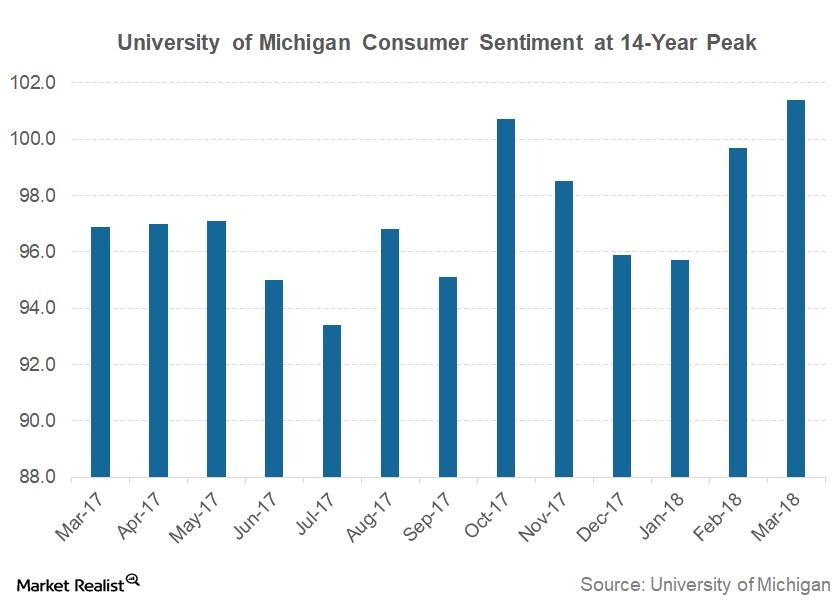 What Drove Consumer Sentiment Index to 14-Year High?
By Ricky Cove

Apr. 13 2018, Updated 11:05 a.m. ET
University of Michigan consumer sentiment to a 14-year peak
The University of Michigan final consumer sentiment for March was reported at 101.7, up by 1.7 as compared to the final February reading of 99.7. This was the highest reading for this index since 2004. The consumer sentiment index is a forward indicator, as it considers the expectations that consumers have about the economy. Consumer expectations influence their spending decisions, which in turn have an impact on the aggregate demand in the economy.
Article continues below advertisement
Reasons for increased consumer sentiment
In a note along with the final March results, Richard Curtin, the Survey of Consumers' chief economist, said that gains in the consumer sentiment index were primarily because of the survey results from the households with income in the bottom third. This group's sentiment depends on the prospective trends in jobs, wages, inflation (TIP), and interest rates (BND). There was no change in expectations from the middle-income group, and the top third recorded a decline in sentiment. The reasons cited for the decline in sentiment in the higher income group were concerns surrounding trade and economic policies.
Consumers' view on interest rates
The University of Michigan consumer sentiment report indicated that consumers believe that the current interest rate level is still low, and the rates could continue to increase. Expectations for interest rates drive demand for big-ticket purchases like homes (ITB) and vehicles (CARZ), and if rates are expected to rise further, consumers are likely to shift from spending to saving. The rate of wage growth is one factor that could support demand even if interest rates (AGG) were to increase. The current trend in wage growth supports the view that consumer demand is likely to remain intact unless we see any external economic or geopolitical shocks.