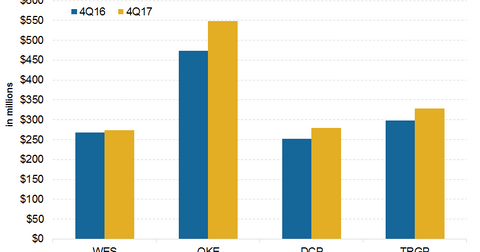 WES, DCP, OKE, and TRGP: Comparing 4Q17 Operating Performance
By Kurt Gallon

Updated
Adjusted EBITDA
ONEOK (OKE) posted the highest YoY[1. year-over-year] EBITDA[2. earnings before interest, tax, depreciation, and amortization] growth in the fourth quarter among the four peers we're analyzing in this series. The C-corp saw 15.5% YoY EBITDA growth in 4Q17. OKE's strong earnings growth in the fourth quarter was driven by strong volume growth across its natural gas gathering and processing and natural gas liquids segments, resulting from expansion projects placed into service and strong drilling activity in the operating region.
OKE is followed by DCP Midstream (DCP) and Targa Resources Corporation (TRGP). DCP and TRGP posted 11.1% and 10.3% EBITDA growth in the fourth quarter. Similar to OKE, DCP and TRGP benefitted from strong volume growth at their gathering and processing business.
Article continues below advertisement
Western Gas Partners (WES) saw the lowest EBITDA growth of 1.8% in the fourth quarter. The weakness in the partnership's 4Q17 performance was mainly due to a decline in natural gas throughput volumes. The partnership saw a 14.1% YoY decline in natural gas throughput volumes in the fourth quarter. The decline was mainly due to the DBJV-for-Marcellus asset swap with Williams Partners (WPZ).
Distributable cash flow
Western Gas Partners saw a slight decline in DCF (distributable cash flow) during the fourth quarter due to weak EBITDA growth, which led to a slight decline in its distribution coverage. WES's 4Q17 distribution coverage stood at 1.08x.
OKE has the highest (1.28x) distribution coverage among the selected peers. OKE is followed by Targa Resources Corporation (1.20x). DCP's distribution coverage stood at 0.91x by the end of the fourth quarter. DCP's less-than-one distribution coverage indicates that the partnership is unable to cover its distributions from its internally generated cash flows. However, the partnership is protected from the IDRs giveback announced by its sponsors to support DCP's distribution coverage.