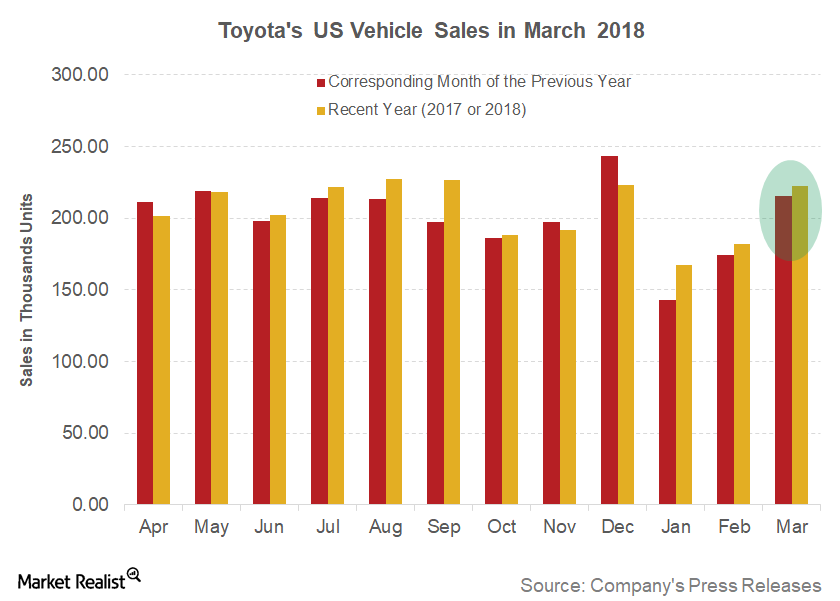 Toyota Reported Stronger US Sales for the Third Month in Row
By Jitendra Parashar

Apr. 10 2018, Updated 10:30 a.m. ET
Toyota's US sales in March
In March 2018, Toyota Motor (TM), the largest Japanese automaker, reported a YoY (year-over-year) rise of 3.5% in its North American sales volumes to 223,000 units. In February 2018, the company's sales rose 4.5% YoY to 182,000 vehicles.
Interestingly, Toyota's 1Q18 sales of 572,000 units weren't far behind Ford Motor Company's (F) 1Q18 home market sales of ~577,000 units.
In 2017, Toyota's global vehicle sales were in third place after French-Japanese automaker alliance Renault-Nissan and European auto giant Volkswagen (VLKAY), respectively. TM offers vehicles under two key brands, Toyota and Lexus. These brands include cars, utility vehicles, and trucks in North America.
Article continues below advertisement
Strength in truck sales
Toyota's total US car sales in March 2018 fell 6.8% YoY to 91,000 units, and its US truck sales for the month rose significantly by ~12.1% YoY to 132,000 units. In February, Toyota's Truck segment sales also rose 10.5% YoY.
Despite weakness in TM's car sales, a respectable consistent increase in its Truck segment's sales was a key factor driving its total US sales higher in March 2018.
Toyota's US truck sales have risen YoY in 13 of the last 14 months, which has helped it expand its profitability. In general, Toyota Motor's profit margins are already higher than those of its peers (VCR), including Fiat Chrysler Automobiles (FCAU), Ford Motor Company (F), and General Motors (GM). In its most recently reported quarter, which ended on December 31, 2017, Toyota's adjusted net profit margin was 11.1%, much better than FCAU's 3.2%, Ford's 5.8%, and GM's 6.4%.
2017 sales data
In 2017, Toyota sold ~2.4 million units in North America. These data reflected a volume decrease of ~0.6% from its sales of 2.5 million units in the previous year. Last year, the sales of Toyota brand vehicles rose 0.5%, while the sales of Lexus brand vehicles fell 7.9% YoY.
Continue to the next article to take a look at Honda's US sales in March 2018.