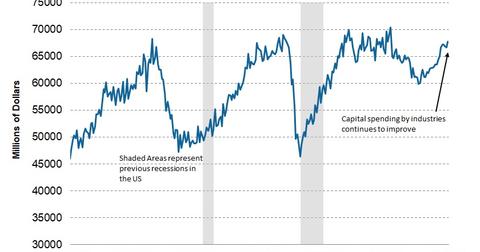 Stable Capital Goods Orders in March
By Ricky Cove

Updated
Non-defense capital goods excluding aircraft orders unchanged in March
The US Census Bureau publishes a monthly report that tracks new orders for machinery, tools, and equipment for US industries. Non-defense core capital goods exclude aircraft and defense purchases and are a proxy for spending by industries. Defense and aircraft orders (ITA) are excluded in this report because of their seasonality and large order size, which distort the readings of the survey.
The Conference Board Leading Economic Index (or LEI) uses capital goods orders as a constituent in its LEI economic model. An increase in capital spending by industries (XLI) is a positive sign for the economy, as companies would approve increased capital expenditure to meet expected increase in demand. This forward-looking trait of this indicator justifies its inclusion in the LEI. This indicator has a weight of 4.0% on the LEI.
Article continues below advertisement
March capital goods data
According to the latest Conference Board LEI report, the core capital goods orders for March were valued at ~$39.3 billion, compared to a revised February reading of ~$38.4 billion. It has been three months since the implementation of the tax cuts, but the savings from industries haven't translated into capital goods (VIS) expenditure so far. The manufacturers' new orders and non-defense capital goods had a net negative impact of 1.0% on the leading economic index.
The market impact of core durable goods orders
Companies in the industrial (IYJ) sector, especially the heavy and medium equipment manufacturers tend to benefit from the rise in orders for core durable goods. With the expectations for companies to invest the additional savings from tax cuts remaining high, there could be a further increase in capital spending by industries (DXJC). 
In the next part of this series, we'll analyze the trends in housing building permits in March.