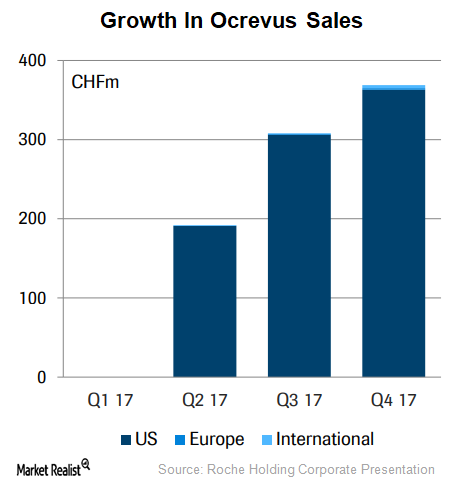 Roche's Ocrevus Is a Highly Effective Option for MS Treatment
By Kenneth Smith

Apr. 12 2018, Updated 1:20 p.m. ET
Ocrevus
Roche's (RHHBY) Ocrevus, approved by the FDA in March 2017, is targeted at the treatment of relapsing and primary progressive forms of multiple sclerosis (or MS). The drug has demonstrated superior efficacy in reducing relapses and slowing the worsening of the disability caused by the disease. 
Ocrevus was also approved in the European Union (or EU) for these two forms of MS in January 2018. In total, the drug has been approved in more than 50 countries.
Article continues below advertisement
With its rising market share, Ocrevus is a highly effective treatment option for MS, offering a highly favorable risk-benefit profile as demonstrated in three Phase 3 studies of the drug. In spite of the available therapies for MS, some patients with relapsing forms of MS continue to experience disease activity and the worsening of their disability. Patients with primary progressive MS with no approved treatment experienced a faster accumulation of disability. Given every six months, Ocrevus has the potential to transform therapy for both these forms of MS.
Sales growth
In 2017, Roche's pharmaceutical division's sales rose 5% to 41.2 billion Swiss francs. Ocrevus, Tecentriq, and Alecensa contributed a combined 1.4 billion francs in new sales, representing 65% of the division's growth. In 2017, Ocrevus registered sales of 869 million francs. Globally, by the end of 2017, 30,000 people had been treated with Ocrevus.
Ocrevus has achieved more than a 5% market share in the United States, and Roche expects further gains in the drug's market share in the country in 2018 on the back of an increase in its prescriber base and insurance coverage.
In the next part of the series, we'll take a look at Biogen's Spinraza.