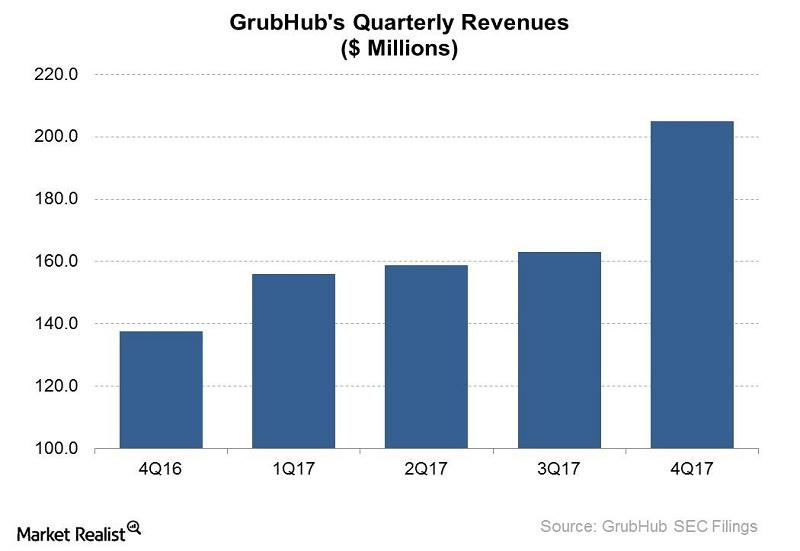 Revisiting the Yelp-GrubHub Partnership
By Neha Gupta

Apr. 5 2018, Updated 10:32 a.m. ET
Yelp and GrubHub integrate as relationship blossoms
On March 19, Yelp (YELP) announced that it had completed the integration of GrubHub's (GRUB) restaurant network onto its platform. The integration represented an expansion of the partnership between Yelp and GrubHub. Last year, Yelp sold its online food ordering and delivery service, Eat24, to GrubHub for close to $290 million.
Whereas Yelp and GrubHub are both in the business of connecting people with local businesses, GrubHub specializes in the food market side with online food ordering and delivery services. Ride-hailing provider Uber Technologies and Square (SQ) are also into the online food ordering business. Square said its food ordering service, Caviar, was a growth driver in 4Q17.
McDonald's (MCD) is one of Uber's big restaurant delivery partners. In February, Uber and Yandex (YNDX) merged their taxi businesses along with online food ordering services in Russia and neighboring countries.
Article continues below advertisement
Bigger market for GrubHub restaurants
The integration of GrubHub's restaurant network onto Yelp's platform is expected to significantly expand food ordering and delivery options for Yelp users. Yelp also said that its users would be able to take advantage of GrubHub's lowest-cost meal delivery service.
As for GrubHub, the integration with Yelp is designed to expand the market for its restaurant partners, given the tens of millions of monthly users on Yelp's platform. GrubHub's revenue increased 49.2% year-over-year to $205.1 million in 4Q17, as shown in the chart above.
Utilizing data insights to drive value for advertisers
Yelp's integration with GrubHub fits with its goal of deepening its restaurant penetration. Data insights gained from the integration with GrubHub could help Yelp to deliver greater value for advertisers and attract more local advertising budgets.