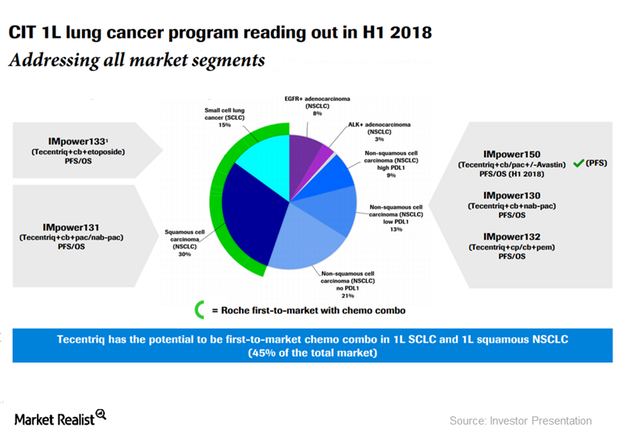 Recent Developments with Roche's Lung Cancer Drug Tecentriq
By Sarah Collins

Nov. 20 2020, Updated 5:30 p.m. ET
NICE approved Roche's Tecentriq for lung cancer treatment
On April 9, 2018, Roche (RHHBY) announced that it has received approval for Tecentriq from NICE (National Institute for Health and Care Excellence) in England for the treatment of the most common form of lung cancer. Patients with advanced NSCLC (non-small cell lung cancer) who have undergone chemotherapy for the disease but still registered disease progression can now get immunotherapy through the NHS (National Health Service), which will provide coverage for Tecentriq treatment.
Article continues below advertisement
Last year, NICE denied coverage recommendation for Roche's Tecentriq for the treatment of advanced NSCLC on concerns of the drug's survival benefits compared to other existing therapy options and the cost-effectiveness of the drug. However, the recent approval by NICE gives a boost to the future prospects of the drug and its potential expansion in the United Kingdom. The NICE approval was based on a Phase III trial that demonstrated the survival benefits of therapy with Tecentriq in NSCLC patients.
Tecentriq's growth potential
According to NHS, 44,500 patients are diagnosed with lung cancer in the United Kingdom every year, and 80% are found to suffer from NSCLC.
In late March 2018, Roche announced its results of a Phase III trial evaluating the combination therapy of Tecentriq, Avastin, and chemotherapy for the treatment of patients suffering from NSCLC. The results showed a 38% improvement in progression-free survival. In another trial, it was reported that a combination of Tecentriq and standard first-line chemotherapy for the treatment of squamous advanced NSCLC showed improved progression-free survival rates. The positive results open up the opportunity to a more than $1 billion squamous NSCLC therapy market. In fiscal 2017, Tecentriq registered sales of 487 million Swiss francs.
Currently, Roche's Tecentriq is approved for NSCLC patients that have shown disease progression after previous treatments and as a second-line therapy for bladder cancer, or metastatic urothelial carcinoma. Merck's (MRK) Keytruda is approved as a first-line treatment for advanced NSCLC immunotherapy.
Be sure to check out all the data we've added to our quote pages. Now you can get a valuation snapshot, earnings and revenue estimates, and historical data, as well as dividend information. Take a look!