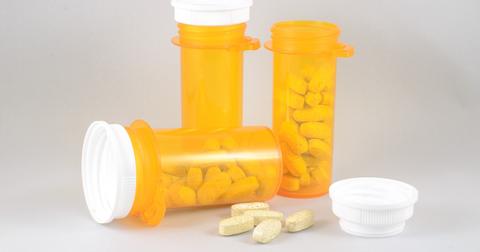 Pfizer: Focused on Advancing Oncology Research Programs in 2018
By Margaret Patrick

Updated
CDK inhibitor research programs
To treat breast cancer patients that develop resistance to Ibrance, Pfizer (PFE) plans to produce a second-generation cyclin-dependent kinase (or CDK) inhibitor in 2018. The company also aims to explore the potential of this investigational therapy to counter resistance mechanisms in other cancer indications. It's also studying investigational drug gedatolisib in a Phase 1b study aimed to benefit patients developing resistance to targeted phosphate PI3K.
The above diagram is a snapshot of Pfizer's robust oncology research pipeline.
Article continues below advertisement
ALK inhibitor research program
In February, the FDA granted priority review for Pfizer's NDA (New Drug Application) seeking approval for anaplastic lymphoma kinase (or ALK) tyrosine kinase inhibitor lorlatinib for patients suffering with ALK-positive metastatic non-small cell lung cancer (or NSCLC) who have previously been treated with at least one ALK tyrosine kinase inhibitor. The company considers this investigational drug best-in-class and aims to target tumor mutations that result in resistance to first-generation ALK inhibitors. The drug has also been designed to cross the blood-brain barrier.
The increasing penetration of ALK inhibitors such as Roche Holdings' (RHHBY) Alecensa, Takeda Pharmaceutical's (TKPYY) Alunbrig, Novartis's (NVS) Zykadia, and Pfizer's Xalkori, has made diagnosing ALK-positive NSCLC patients a standard practice. The trend may help boost the adoption of lorlatinib in the future.
Article continues below advertisement
PARP inhibitors
On December 8, 2017, Pfizer announced the results of its Phase 3 trial EMBRACA, which highlighted the superior progression-free survival witnessed by germline BRCA1/2-positive locally advanced and/or metastatic breast cancer patients compared to those treated with the physician-chosen standard of care therapy. Additionally, almost twice the number of patients in the talazoparib arm demonstrated partial or complete responses compared to those in the control arm. Pfizer has already filed applications seeking regulatory approval for this drug in multiple geographies. To know more about talazoparib, please refer to Talazoparib and Pidilizumab May Prove Complementary to Pfizer's Existing Oncology Drugs.
Besides breast cancer, Pfizer is also studying the combination of Xtandi and talazoparib in certain prostate cancer patients in two studies. It has also planned for a single-arm trial to study talazoparib in advanced prostate cancer. Pfizer also aims to study talazoparib in combination with Bavencio in multiple cancer indications.