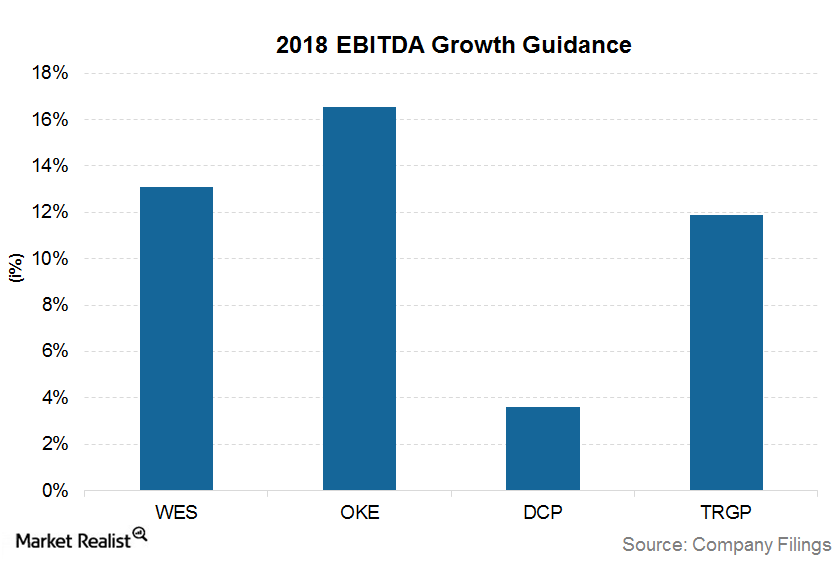 ONEOK Saw the Highest Earnings Growth Guidance among Peers
By Kurt Gallon

Apr. 2 2018, Updated 4:45 p.m. ET
EBITDA guidance
In the previous part of this series, we looked at the recent operating performance for the four peers we're analyzing: DCP Midstream (DCP), ONEOK (OKE), Targa Resources (TRGP), and Western Gas Partners (WES). In this part, we'll look into their 2018 guidance and broader earnings drivers.
The 2018 EBITDA guidance for the four peer is as follows:
WES: $1,150 million–$1,250 million
DCF: $1,045 million–$1,135 million
OKE: $2,215 million–$,2415 million
TRGP: $1,225 million–$1,325 million
Based on the above 2018 guidance, ONEOK is expected to lead in terms of earnings growth among the selected peers. OKE's EBITDA is expected to grow 16.5% YoY if the company achieves the midpoint of its 2018 guidance. OKE is followed by WES and TRGP. Their 2018 EBITDA guidance at the midpoint represents 13.1% and 11.9% growth compared to 2017. DCP's 2018 EBITDA guidance represents a marginal increase of 3.6%, which could be due to low organic expansion from DCP in 2017–2018.
Article continues below advertisement
Volume growth
The four peers are expected to benefit from strong volume growth in 2018, driven by strong US drilling activity—particularly in the Permian, Anadarko, and Eagle Ford regions. We'll look more into this topic in the next part of this series.
WES, TRGP, and OKE's 2018 throughput volumes are also expected to benefit from the strong organic expansion in 2017–2018. We'll look into the expansion plans for the four peers in a later part of this series.
Margin expansion
Apart from strong volume growth, ONEOK and Targa Resources are expected to benefit from margin expansion in 2018 due to their strong focus on the expansion of the higher-margin NGLs (natural gas liquids) logistics business. Western Gas Partners had the highest EBITDA margin of 47.2% for 2017. On the other hand, DCP Midstream had the lowest EBITDA margin of 12.4%. OKE's and TRGP's TTM (trailing-12-month) EBITDA margin stood at 16.3% and 12.9% in 2017, respectively.