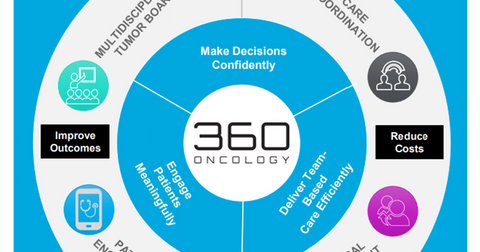 Oncology Continuum Software: Opportunity for Varian Medical?
By Margaret Patrick

Apr. 5 2018, Updated 9:30 a.m. ET
Oncology continuum solutions
Oncology continuum solutions, or oncology information systems, account for almost 50% of Varian Medical Systems' (VAR) software portfolio. The company's flagship oncology information system, ARIA, is playing a major role in expanding the company's presence across key markets in the world. By late 2017, the software had been installed by more than 4,200 customers, and about 100,000 people were using the software on a daily basis. The company has focused on making ARIA capable of complying with the changing regulatory framework in the United States and is also localizing the software for major international markets. Additionally, Varian Medical Systems has invested resources to increase the sales force for selling oncology information systems in the European and Asia Pacific markets.
The company has launched ARIA Qin, a localized version of ARIA, in China. That, coupled with Varian's strategic partnership with Ping An Health Technology to increase access to cancer treatment in China, is playing a pivotal role in strengthening Varian's position in China.
Article continues below advertisement
Besides ARIA, Varian Medical Systems also has an analytics platform, InSightive, in its portfolio. It's used by customers to identify clinical and financial trends and patterns. The software has been specifically designed for the oncology segment and is expected to witness rapid adoption due to an already large installed base for ARIA.
Oncology care coordination
The above diagram shows how Varian Medical Systems' 360 Oncology Solution is positioned to play a key role in the upcoming $1 billion care coordination and decision support market for cancer patients. The company has projected the revenue potential of this solution at $20 million per 100 new customers using this platform. It's investing in creating the infrastructure required to expand its footprint in the SaaS (Software as a Service) platform, which will be used not only for 360 Oncology but also for other applications in the future.
The focus on oncology-related software s a key differentiating factor for Varian Medical Systems as it competes with other players such as Abbott Laboratories (ABT), Medtronic (MDT), and Baxter International (BAX).
In the next and final part of this series, we'll look at Varian Medical Systems' proton therapy offerings.