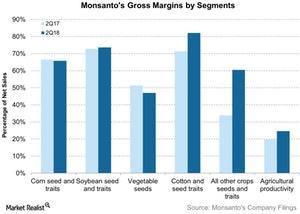 Monsanto's Segment Margins: A Year-over-Year Comparison
By Adam Jones

Apr. 6 2018, Updated 3:10 p.m. ET
Gross margin performance
In the previous part of this series, we looked at Monsanto's (MON) overall sales performance and saw how the segments performed in fiscal 2Q18. Now, let's look at its gross margins by segment before we delve into the company's overall margin performance.
Article continues below advertisement
Margins by segments
In the above chart, we see that four of Monsanto's six business segments expanded their margins year-over-year.
In fiscal 2Q18, the Soybean Seed & Traits segment had a margin expansion year-over-year from 72.9% to 73.7%. The Cotton & Seed Traits segment also saw a year-over-year margin expansion from 71.3% to 82.1%. The All Other segment under the umbrella of Seeds and Genomics had a significant year-over-year margin expansion from 33.8% to 60.5%.
The company stated that the improvement in its Soybean Seed & Traits segment was driven by its Intacta RR2 PRO product, particularly in South America. The company said it has received regulatory approval for its Intacta 2 XTEND in Brazil.
In contrast to the above three segments, the Corn Seed & Traits subsegment had a year-over-year margin contraction from 66.6% to 65.8%. The Vegetable & Fruit Seed segment had a year-over-year margin contraction from 51.3% to 47%.
The Agricultural Productivity segment's margin expanded from 19.7% to 24.6% year-over-year.
Expectations for its peers
Usually, macro factors impact the movement in agricultural companies' profitabilities. When we look at Monsanto's peers (MOO), there are expectations of margin improvements in their upcoming earnings. For example, CF Industries' (CF) margins are expected to expand from 15.3% to 19.2%. Mosaic's (MOS) margins are estimated to expand from 11% to 14.2%, and Intrepid Potash (IPI) is expected to report a margin expansion from 8.4% to 21.9%.
Next, we'll take a look at Monsanto's overall profitability during fiscal 2Q18.