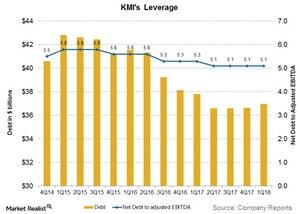 Kinder Morgan's Net Debt Rises $330 Million in 1Q18
KMI's net debt
Kinder Morgan's (KMI) net debt was ~$37.0 billion at the end of 1Q18, $331 million higher than at the end of 2017. Of the $331 million increase, nearly $100 million was associated with increased debt at Kinder Morgan Canada (KML.TO), and ~$231 million was associated with KMI's standalone operations. Notably, Kinder Morgan's net debt has fallen ~$5.8 billion since the end of 1Q15.
Article continues below advertisement
Net debt-to-adjusted earnings ratio
The above graph shows Kinder Morgan's net debt and net debt-to-adjusted EBITDA (earnings before interest, tax, depreciation, and amortization) ratio over the last three years. It was 5.1x at the end of 1Q18, and as the above graph shows, the ratio has remained stable for the last four quarters. In 2018, KMI has budgeted for a net debt-to-adjusted EBITDA ratio of ~5.1x, which it expects to meet or beat.
Share buybacks
Since December 2017, Kinder Morgan has repurchased ~27 million shares for ~$500 million. KMI plans to continue buying back shares opportunistically. The company intends to decide on buying back shares or paying down its debt as the opportunities arise, while considering its targeted leverage metric.
Kinder Morgan expects to invest $2.3 billion in growth projects in 2018, excluding growth capital expected to be funded by Kinder Morgan Canada. The company expects to fund its growth capital needs with internally generated cash flow, without accessing capital markets. Let's look at what Wall Street analysts recommend for Kinder Morgan in the next, and concluding, part of this series.