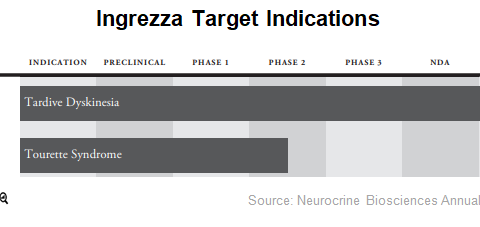 Ingrezza: Boosting Neurocrine's Top Line
By Kenneth Smith

Apr. 12 2018, Updated 5:20 p.m. ET
Ingrezza
Neurocrine Biosciences (NBIX) is a pharmaceutical company with a focus on neurological and endocrine-based diseases and disorders. Its leading product on the market is Ingrezza, a vesicular monoamine transporter 2 (or VMAT2) inhibitor used in the treatment of movement disorders.
Ingrezza was approved by the FDA for the treatment of tardive dyskinesia (or TD) in April 2017. It was the first drug approved by the FDA for this indication.
Article continues below advertisement
Disease profile
TD is characterized by hyperkinetic involuntary movements that arise after months or years of treatment with dopamine receptor–blocking agents, such as antipsychotics for schizophrenia, bipolar disorder, and depression. Features of the disease can include grimacing, tongue protrusion, lip smacking, puckering, and rapid eye blinking. The impact of the disease on daily function and quality of life can be substantial. According to Neurocrine, ~500,000 individuals are affected by TD in the United States.
Clinical program for Tourette's syndrome
Ingrezza is also being investigated for use in the treatment of Tourette's syndrome. Neurocrine has completed three clinical trials in Tourette's patients and is also conducting a Phase 2b study in children with Tourette's syndrome. Neurocrine intends to make use of these results for a new drug application (or NDA) submission with the FDA for the use of Ingrezza in the treatment of Tourette's syndrome patients.
Tourette's syndrome is a neurological disorder that consists of rapid, nonrhythmic stereotyped motor and vocal tics. Disease characteristics include facial grimacing, head jerks, grunting, throat clearing, and repeating words and phrases. The average onset age of the disease is six, and symptoms reach their peak at age ten. Ingrezza was granted orphan drug designation by the FDA for the treatment of pediatric patients with Tourette's syndrome in 2017.
Following its launch in May 2017, Ingrezza generated revenue of $116.6 million in 2017.