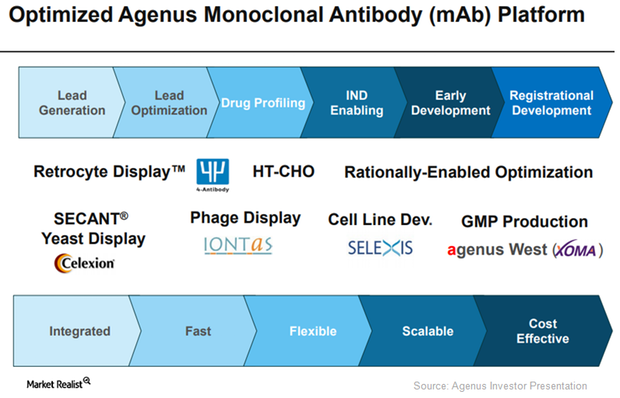 Incyte Advances R&D Strategy with Multiple Partnerships
By Margaret Patrick

Apr. 12 2018, Updated 10:31 a.m. ET
Collaboration with Agenus
In January 2015, Incyte (INCY) entered an antibody discovery collaboration with Agenus (AGEN), which was later amended in February 2017. As per the amended agreement, the ongoing research programs for the development of checkpoint modulator antibodies targeted at GITR and OX40 have been converted from co-funded ones to being fully funded by Incyte. Additionally, the profit-sharing arrangement for these research programs has been converted into royalty-bearing programs. Currently, Incyte is responsible for the worldwide development and commercialization of these investigational therapies, while Agenus will be receiving 15% royalty on net sales of these therapies in case either one or both are approved. Based on the amended agreement, Incyte was to pay $80 million as milestone payments, which consist of $20 million as accelerated clinical development milestones and $60 million as equity investment in Agenus.
Article continues below advertisement
The above diagram explains the key characteristics of Agenus's Retrocyte Display antibody discovery platform. The amended agreement also removed two undisclosed targets from the profit-sharing arrangement. The remaining two ongoing programs involving checkpoint modulator antibodies targeting LAG-3 and TIM-3 are royalty-bearing arrangements with Incyte responsible for worldwide development and commercialization and Agenus earning royalties at tiered rates in the range of 6% to 12%. In November 2015, both companies also started working on an additional three targets under the collaboration.
Other collaborations
In December 2016, Incyte entered a collaboration with Merus (MRUS) and secured exclusive rights for the latter's 11 bispecific antibody research programs, which are being developed on Merus's Biclonics platform.
In January 2018, Incyte entered a target discovery and research collaboration with Syros Pharmaceuticals (SYRS). Based on the agreement, Syros will identify novel targets in myeloproliferative neoplasms indications using its gene control platform, while Incyte will enjoy the option to obtain exclusive worldwide development and commercialization rights for seven of the validated targets.