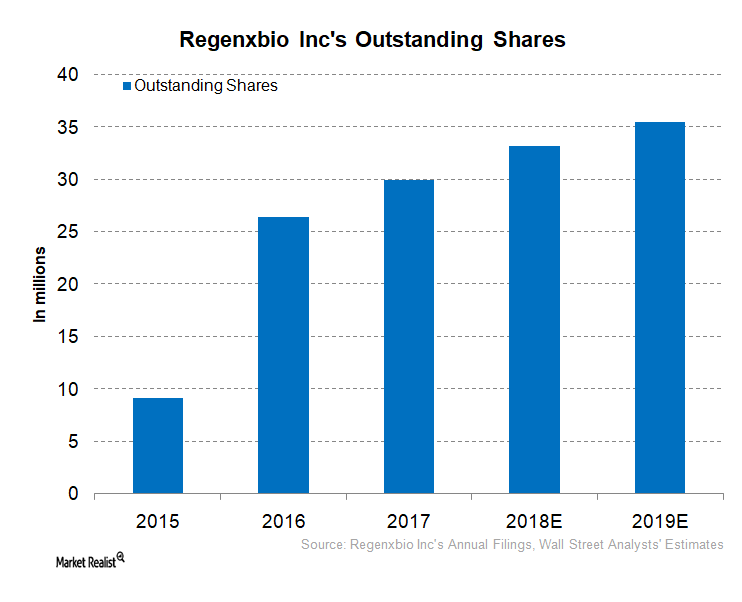 How Regenxbio's Cash Flows and Valuation Metrics Moved
By Kenneth Smith

Apr. 13 2018, Updated 3:47 p.m. ET
Cash flows
Regenxbio (RGNX) spent $57.9 million in operating activities in fiscal 2017 compared to $48.5 million in fiscal 2016. This change was primarily attributable to the increased employee headcount and increases in research and development expenses.
In fiscal 2016, the company generated $19.1 million from investing activities compared to $4.7 million in investing activities in fiscal 2017. Regenxbio generated $84.6 million from financing activities in fiscal 2017 compared with $119,000 in fiscal 2016. This significant change was primarily due to $81.5 million in net proceeds from a follow-on public offering of the company's common stock and $3 million in proceeds from the exercise of stock options and issuance of common stock under Regenxbio's employee stock purchase plan. Consequently, the net increase in total cash and equivalents during fiscal 2017 was $21.8 million compared with a net decrease of $29.2 million in fiscal 2016.
Article continues below advertisement
Valuation metrics
Regenxbio's enterprise value is $700.2 million with an enterprise-value-to-revenue ratio of 67.4x. Its price-to-sales ratio stands at 95.8x and its price-to-book ratio stands at 5.4x. The company's book value per share is $5.85, while its current ratio, a metric of how effectively the company can meet its short-term obligations, stands at 11.6x.
In the past three months, the share price of Regenxbio has fluctuated from a low of $24 on February 5, 2018, to a high of $38 on March 7, 2018. After that, it again trended in sync with the market drop in recent weeks but witnessed an uptick on April 9, 2018, rising by 20% to close at $31.4.