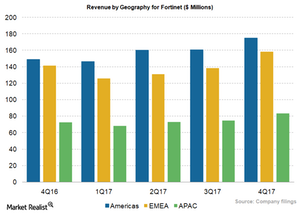 How Fortinet's Business Regions Performed
By Aaron Hemsworth

Apr. 12 2018, Updated 9:00 a.m. ET
The American region
The American segment of Fortinet (FTNT) contributes around 43% to the company's total revenue. Geography-wise, the American region is the IT (information technology) hub, which leads to a huge demand for security products and services.
The geographic region also witnessed the highest CAGR (compound annual growth rate) of 4.1% in the last five quarters. In the same period, the North American market for other companies like Accenture (ACN) and Infosys (INFY) also grew at a CAGR of 1.9% and 1.3%, respectively, which indicates that Fortinet is not being downplayed by other big players.
The graph above shows the revenue growth for all of Fortinet's regions in the last five quarters. The American market was in an increasing trend during the period.
In fiscal 4Q17, the revenue from the region came in at nearly $175 million, a 17.6% YoY (year-over-year) increase. Likewise, at the end of fiscal 2017, the company generated total revenue of $642 million, up 20% YoY.
Article continues below advertisement
Performance in other markets
Europe, the Middle East, and Africa (or EMEA) markets are also gaining strong momentum buoyed by increased IT spending. In fiscal 4Q17, the company generated $158 million in revenue, up 11.9% YoY. In the last five quarters, the revenue from the region increased at a CAGR of 2.8%. Similarly, in 2017, the revenue came in at $554 million, up 16% YoY.
The Asia-Pacific (or APAC) region saw 14.8% YoY growth in revenues to $83 million. In the last five quarters, revenue from the region climbed at a CAGR of 3.5%. Likewise, in 2017, revenue was $229 million, up 13% YoY.
On a geographic basis, billings in the Americas grew 10% year-over-year. EMEA billings grew 20%, and APAC billings grew 17%.