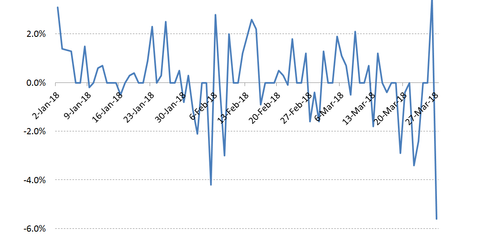 How Facebook Stock Impacted the NYSE FANG+ Index
By Anne Shields

Updated
NYSE FANG + Index had its largest fall on March 27, 2018
Earlier in the series, we discussed the factors that caused a severe dip in Facebook's (FB) market capitalization. Among the prominent big tech companies, Facebook has lagged the field, falling 15.7% year-to-date amid controversy over its handling of its users' data. 
Mark Zuckerberg, Facebook's CEO, is expected to testify before Congress about the company's data usage and privacy standards. This would be Zuckerberg's first public testimony before lawmakers.

Article continues below advertisement
The chart above shows the sharp dip in the NYSE FANG+ Index. FANG refers to Facebook, Amazon (AMZN), Netflix (NFLX) and Alphabet (GOOG). In the last week, Facebook stock fell 5.0%, Amazon fell 4.0%, Netflix fell 6.0%, and Alphabet fell 4.5%. This index tracks ten of the largest global tech stocks, and it fell 5.6% on March 27, 2018, its worst fall on record since its debut in 2014.
Facebook's controversy has enhanced the scrutiny of the tech sector
Citing Mike O'Rourke, chief market strategist at JonesTrading, the Wall Street Journal reported, "'Due to Facebook's privacy scandal, the techlash theme has been gaining momentum,' Mr. O'Rourke said. 'Since consumer privacy data is the key competitive edge of these companies, it means the level of risk and uncertainty has risen.'"
Facebook's controversy is expected to tighten the regulations over social media platforms such as Twitter (TWTR) and the entire technology sector. Apart from Facebook's data privacy issues, the tech sector is also concerned about President Trump's focus on Amazon's tax structure.