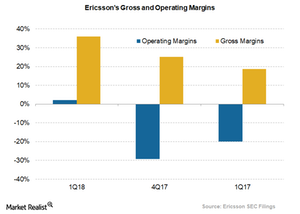 How Ericsson's Cost Savings Program Helped 1Q18 Margins
By Sophia Nicholson

Updated
Ericsson cutting costs
Ericsson (ERIC) posted improved losses in the first quarter of 2018, driven by company's cost-cutting efforts. During the quarter, the company laid off 3,000 workers. Employee reduction is part of the company's cost-cutting program. Ericsson has been cutting down its workforce since July 2017. It has reduced its employees by almost 18,000.
Article continues below advertisement
Cost cutting driving margins
In 1Q18, Ericsson significantly improved its adjusted operating margins to 2%, compared to an operating loss margin of 19.9% in 1Q17. Its gross margin, on an adjusted basis, expanded to 35.9% in 1Q18, up from 18.7% in 1Q17. The company posted impressive margins on the back of cost savings efforts. It increased sales of high-margin products in its networking division. Ericsson has also been handling its managed services contracts to identify contracts to exit, renegotiate, or transform, which is helping margins.
Annual savings target
Ericsson has achieved an annual run-rate for cost savings of 8.5 billion Swedish kronor. The company aims to fulfill its cost savings target of approximately $1.2 billion (or 10 billion Swedish kronor) annually by mid-2018.
Ericsson expects to reduce costs over the next two fiscal years and achieve operating profit margins of 10% by fiscal 2020 and 12% post-2020.
In the above chart, you can see that Ericsson's EBITDA (earnings before interest, tax, depreciation, and amortization) is at 27%. In comparison, EBITDA margins for Nokia (NOK), Cisco (CSCO), and Juniper (JNPR) stand at 7%, 31%, and 23%.