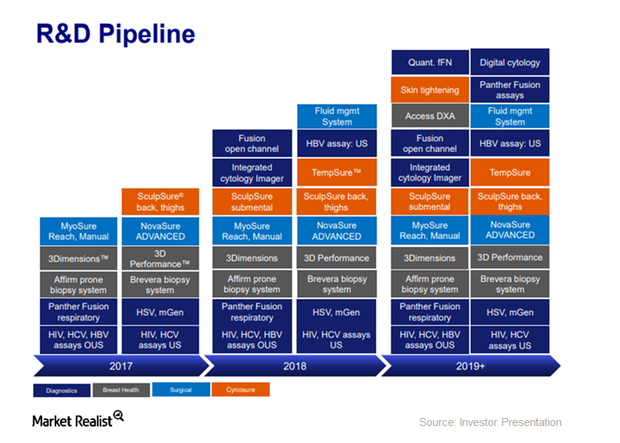 Hologic and Dexalytics Partner to Develop Software for Athletes
By Sarah Collins

Apr. 4 2018, Updated 7:34 a.m. ET
Overview
On February 22, 2018, Hologic (HOLX) announced that it has entered into an agreement with the University of Minnesota to be an exclusive provider of Dexalytics: Teams software in North America. The partnership is aimed at providing groundbreaking body composition analysis software to the sports science and human performance industry. The software harnesses the body composition data provided by the DXA (dual X-ray absorptiometry) scans and compares them with the predetermined standards specific to the sport and position. The analysis results yield actionable information to help train athletes better. Hologic is constantly focused on innovating and advancing its DXA product. It has some related products in its product pipeline such as Access DXA.
Article continues below advertisement
Software details
Hologic's Horizon DXA system provides advanced reports and sets the standard for body composition assessment. The reports provide data specifying the exact location of bone and lean and fat masses and also provides a visual comparison of the changes in these parameters over time.
Dexalytics software is cloud-based and leverages the best-in-class data of body composition. It uses DXA research that spans more than 30 years for critical measurements beyond traditional body fat and mass metrics. The data are transformed into more comprehensible metrics for an athlete score rather than all the clinical data for easy assessment of sports performance. These scores can be used by trainers to track the performance of athletes over time.
What management is saying
According to Pete Valenti, division president of Hologic's Breast and Skeletal Health Solutions, "We're very excited to be working alongside an institution with a laser-sharp focus on forward-thinking innovation that mirrors our own. This partnership presents an opportunity for our best-in-class technology to be used in impactful ways with new audiences, and helps differentiate elite athletic programs on the collegiate and professional levels by providing them with this cutting-edge tool to set their organizations and players apart from the pack."