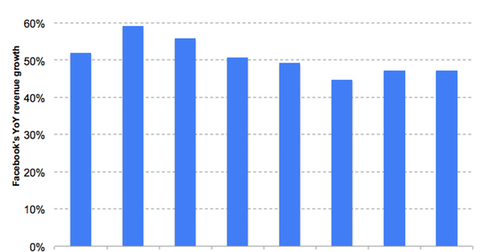 Has Facebook Allayed Concerns after Series of Sweeping Changes?
By Sanmit Amin

Updated
Cambridge Analytica may have data of 87 million Facebook users
Facebook (FB) said on Wednesday, April 4, 2018, that data firm Cambridge Analytica may have collected data of about 87 million users rather than the estimated 40 million reported by the New York Times.
The social media giant has laid out many updates in order to better protect the privacy of its users and give users more control over how their data are shared.
Article continues below advertisement
Facebook is attempting to regain lost trust by making changes
The update to Facebook's services comes as part of the company's broader efforts to get back user trust. Some of the company's other efforts in recent weeks include an overhaul of its terms of service, reducing data partners that help it gain targeted ads, and restricting the types of third-party developers that can collect data from Facebook.
The company said last month that it will make it easier for users to examine and edit some of the information the company tracks.
These steps are likely to slow down the company's revenue growth but are positive steps aimed at limiting damage and allaying investor and user concerns. Facebook stock has tanked 16% since the Cambridge Analytica scandal broke on March 16. However, it recovered 3.8% on Wednesday, April 4. The broader markets tracked by the S&P 500 Index rose 1.2%.