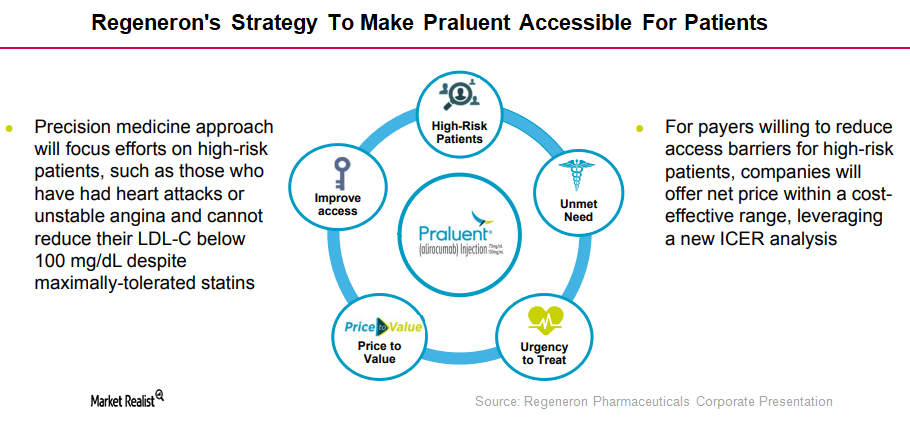 Exploring the Growth of Regeneron's Praluent
By Kenneth Smith

Apr. 12 2018, Updated 1:20 p.m. ET
Praluent
Regeneron Pharmaceuticals' (REGN) Praluent is marketed in the United States as an adjunct to diet and maximally tolerated statin therapy for treating adults with heterozygous familial hypercholesterolemia (or HeFH) or clinical atherosclerotic cardiovascular disease (or ASCVD).
Praluent is also marketed in Japan and some countries in the European Union. Praluent is a fully human monoclonal antibody inhibitor of PCSK9. The drug was created using Regeneron's velocimmune technology.
In April 2017, the FDA approved a supplemental biologics license application (or sBLA) for Praluent for a once-monthly dose, and in July 2017, it approved the drug's sBLA for an increase in time out of refrigeration from 24 hours to 30 days.
Sanofi records total product sales for Praluent, and Regeneron and Sanofi share profits and losses on the sales of the drug. Regeneron has the option of copromoting Praluent in each country of approval, but so far, it's only exercised this option in the United States.
Article continues below advertisement
Sales growth
Total sales of Praluent rose from $116.3 million in 2016 to $194.7 million in 2017. Most of this growth came from its US sales, which rose from $94.4 million in 2016 to $131.4 million in 2017. Its international sales rose from $21.9 million in 2016 to $63.3 million in 2017.
Praluent for LDL cholesterol reduction
Regeneron is assessing Praluent's potential to reduce cardiovascular events in its Odyssey outcomes study, which includes 18,000 patients. Data from this study are expected in 1Q18. Additionally, Regeneron initiated a Phase 3 study for the treatment of homozygous familial hypercholesterolemia in 4Q17.
Notably, Regeneron has filed an sBLA for the use of Praluent with apheresis with the FDA, and the target action date has been set for August 24, 2018, which is a key event to watch for.
Praluent's competitors include Repatha by Amgen, which is already on the market, as well as inclisiran by Alnylam Pharmaceuticals, ETC-1002 by Esperion Therapeutics, and gemcabene by Gemphire Therapeutics, all of which are currently under development.
In the next part of the series, we'll take a look at Ingrezza by Neurocrine.