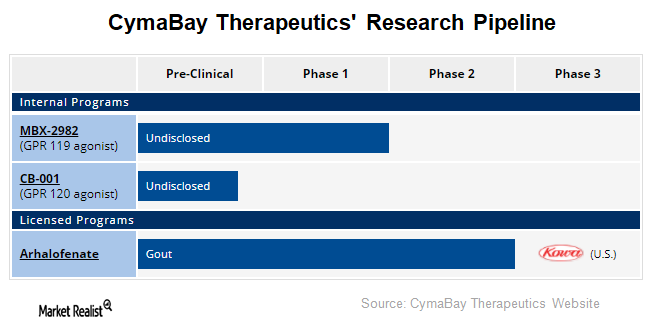 Exploring CymaBay's Other Promising Product Candidates
By Kenneth Smith

Apr. 17 2018, Updated 8:11 a.m. ET
Arhalofenate
CymaBay Therapeutics' (CBAY) second product candidate, arhalofenate, is being developed for the treatment of gout. It is a dual-acting anti-inflammatory and uric-acid-lowering agent. The drug has been studied in five phase two clinical trials in patients suffering from gout and has consistently demonstrated reduction of gout flares and serum uric acid (or sUA).
Gout flares are recurring and painful episodes of joint inflammation. CymaBay Therapeutics believes arhalofenate's potential to reduce flares while also reducing sUA levels could be a differentiating factor from presently available treatments for the disease.
Article continues below advertisement
Collaboration with Kowa Pharmaceuticals
CymaBay Therapeutics entered an exclusive licensing agreement with Kowa Pharmaceuticals and granted it development and commercialization rights for the drug in the US in 2016. Under this agreement, CymaBay Therapeutics received $5 million in upfront payment in January 2017 and a milestone payment of $5 million for initiating a study evaluating pharmacokinetics of the drug in patients with renal impairment in January 2018. CymaBay Therapeutics is also entitled to receive an additional $5 million milestone payment upon initiating a phase three study and up to $190 million in development and sales milestones. CymaBay Therapeutics retains complete development and commercialization rights for arhalofenate for markets in the rest of the world.
Current treatments for gout
The most commonly prescribed treatments for gout include allopurinol and febuxostat by Takeda Pharmaceutical. These treatments are xanthine oxidase inhibitors that decrease the production of uric acid. According to CymaBay Therapeutics, generic allopurinol accounts for ~90% of ULT prescriptions in the US. Another product on the market for the treatment of gout is Zurampic by Ironwood Pharmaceuticals and AstraZeneca. This is a uricosuric that blocks the main urate transporter in renal proximal tubules. Zurampic was approved in the US in 2015 and in the EU in 2016 for treating hyperuricemia associated with gout.
In the next part of the series, we'll take a look at CymaBay Therapeutics's MBX-2982 and the company's financial performance.