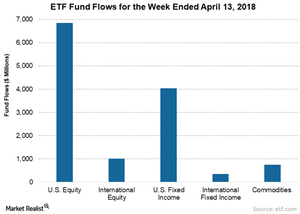 ETF Inflows Rebounded despite Rising Geopolitical Concerns
By Peter Barnes

Updated
US equity inflows gathering steam
The latest economic data and renewed geopolitical concerns failed to thwart ETF inflows last week. According to FactSet, US-listed ETFs attracted inflows worth $13.2 billion, which took the year-to-date inflows higher to $71.2 billion. All of the major asset classes witnessed positive inflows. US equity ETFs added $6.9 billion, while international equity collected $1.0 billion. US fixed-income ETFs also saw a healthy addition of $4.0 billion amid a rise in the ten-year bond yield to 2.83%—compared to 2.78% last week. International fixed-income garnered $355 million.
Article continues below advertisement
SPY topped the chart
The SPDR S&P 500 ETF Trust (SPY) was the leader of the pack with inflows worth $4.3 billion. SPY was followed by the iShares iBoxx $ Investment Grade Corporate Bond ETF (LQD) and the iShares Russell 2000 ETF (IWM) with net creations of $818 million and $677 million, respectively. Some of the fixed-income ETFs like the iShares Short Treasury Bond ETF (SHV) and the iShares iBoxx $ High Yield Corporate Bond ETF (HYG) were popular with investors. The SPDR Gold Trust (GLD) was also in the top ten with inflows of $508 million.
The outflows were led by the iShares MSCI EAFE ETF (EFA) with net redemptions of $633 million. The outflows from the iShares Core S&P 500 ETF (IVV) and the PowerShares S&P Emerging Markets Momentum Portfolio (EEMO) were $553 million and $429 million, respectively.
Upcoming events
China will release its first quarter GDP growth rate. The US will release its retail sales data for March. The United Kingdom will reveal its unemployment rate for February and the inflation rate for March. Japan and Canada will also report their inflation rates for March. The BoC (Bank of Canada) will decide on the interest rate changes. In the BoC's previous meeting held in March 2018, the overnight rate was maintained at 1.25%.
Bank of America (BAC), Goldman Sachs (GS), Bank of New York Mellon (BK), US Bancorp (USB), and Blackstone Group (BX) are reporting their 1Q18 earnings this week.