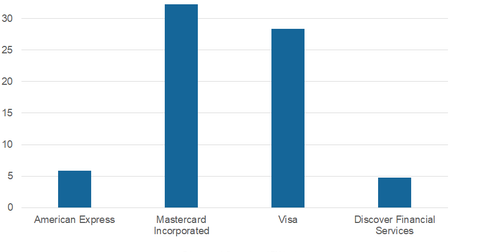 Discover Financial: Tax Cuts and Payment Services Division
By Raymond Anderson

Updated
How could tax cuts positively impact Discover?
In late 2017, the Tax Cuts and Jobs Act was passed, in which corporate taxes were reduced substantially. Discover Financial Services (DFS) has its operations mainly in the US, allowing the company to pay a lower tax rate, which could benefit its long-term growth.
Discover expects to pay lower taxes, which would result in higher cash flows that the company could deploy in its business activities. The company's shareholders could also benefit. The company plans to make deployments toward technology, marketing, its communities, and its employees.
Article continues below advertisement
The deployments toward technology are important mainly because of the competitive environment. Competitor (XLF) Visa (V) made additions to its Visa Ready program. Mastercard (MA) has been making plans to ease payments via smartphones. American Express's (AXP) view is that opportunities still exist in the payments environment.
Payment Services segment
Discover Financial's (DFS) Payment Services segment saw a rise in its pretax income from $107.0 million in 2016 to $145.0 million in 2017, primarily due to higher transaction processing revenues. The Payment Services segment is sensitive to global economic performance as well as foreign currency.
The Payment Services segment saw a rise in its other income from $270.0 million in 2016 to $290.0 million in 2017. The segment's other expenses posted a decline from $162.0 million in 2016 to $152.0 million in 2017.
DFS has a price-to-cash flow ratio of 4.8x on an LTM (last-12-months) basis. Its peers (XLF) American Express, Mastercard, and Visa have price-to-cash flow ratios of ~5.9x, ~32.2x, and ~28.3x, respectively, on an LTM basis.
Check out all the data we have added to our quote pages. Now you can get a valuation snapshot, earnings and revenue estimates, and historical data as well as dividend info. Take a look!