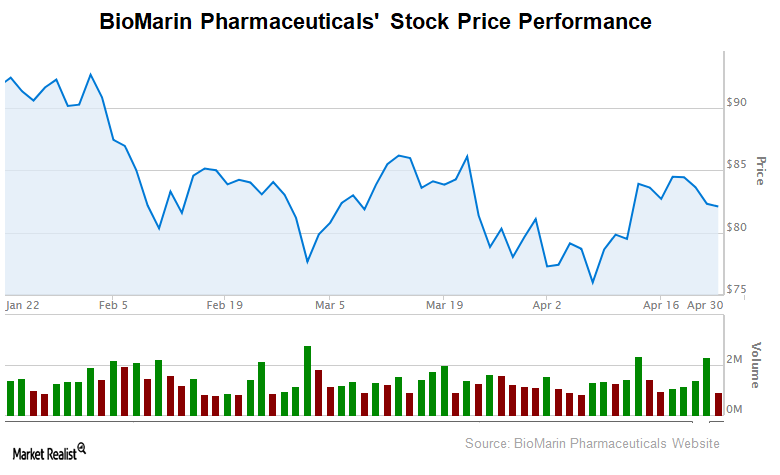 Cash Flows and Valuation Metrics of BioMarin Pharmaceuticals
By Kenneth Smith

Apr. 25 2018, Updated 7:02 p.m. ET
Cash flows
BioMarin Pharmaceuticals' (BMRN) cash, cash equivalents, and investments increased from $1.3 billion in fiscal 2016 to $1.7 billion in fiscal 2017, further strengthing the company's cash position.
BioMarin used $8.8 million in operating activities in fiscal 2017, compared with $227.8 million in fiscal 2016. Its operating cash flows in fiscal 2017 consisted of a net loss of $117.0 million, which was offset by $140.3 million in stock-based compensation expenses, $87.9 million in depreciation and amortization expenses, and $44.5 million for a change in deferred income taxes.
BioMarin Pharmaceuticals (BMRN) used $305.5 million in investing activities in fiscal 2017, compared with $484.0 million in fiscal 2016. This decrease was attributable to proceeds of $125.0 million from the sale of the priority review voucher. 
Another primary factor in this trend was an increase in net purchases of available-for-sale securities of $102.7 million, which was partially offset by an increase in purchases of property and equipment of $50.8 million.
Article continues below advertisement
The company raised $507.0 million from financing activities in fiscal 2017. In fiscal 2016, this figure was $727.0 million. This decrease was primarily attributable to a $712.9 million decrease in net proceeds from a public offering of common stock. It was partially offset by $481.7 million of net proceeds from the issuance of the 2024 notes in August 2017.
Stock performance
In the three months between January 24, 2018, and April 23, 2018, the stock price of BioMarin Pharmaceuticals has corrected by 10.0%. In comparison, the stock prices of peers Pfizer (PFE), Achaogen (AKAO), and CymaBay Therapeutics (CBAY) changed by -0.35%, ~15.6%, and ~5.2%, respectively, in the comparable period.
Valuation metrics
The enterprise value of BioMarin Pharmaceuticals is $14.5 billion, and its enterprise-value-to-revenue ratio is ~11.0. Its price-to-sales ratio is 11.0, and its price-to-book ratio is ~5.1.