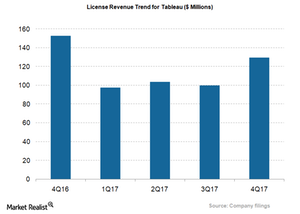 Can Tableau Boost its Licensing Business?
By Aaron Hemsworth

Apr. 12 2018, Updated 9:01 a.m. ET
DATA's Licensing segment
Tableau Software's (DATA) Licensing business is primarily generated from the sale of software licenses to new customers as well as existing customers. Software license revenues are derived from the sales of perpetual term and subscription licenses. Its perpetual license revenues comprise ~72.0% of the company's total License segment.
In the last five quarters, DATA's Licensing segment's revenues maintained a declining trend. This trend was attributable to the changes in the mix of the sales of its term and subscription licenses relative to sales of its perpetual licenses. To boost flexibility in its payment terms, the company is shifting toward a subscription-based model from the upfront payment mode, affecting revenues for this period.
From the chart above, we can see the licensing revenue trend of Tableau Software in the last five quarters. During this period, the data analytics company's revenues decreased at a CAGR (compound annual growth rate) of 4.0%.
In 4Q17, the company's licensing revenues fell 15.0% YoY (year-over-year) to $129.0 million. At the end of 2017, the revenues from its Licensing business came in at nearly $429.0 million, down 11.0% YoY.
Article continues below advertisement
Tailwinds
Higher demand for analytics software across different industries has led to strong licensing annual revenue (or ARR) growth. Moreover, the continuous launch of new products coupled with the growing customer portfolio may boost DATA's licensing business.
In 4Q17, Tableau Software won several large contracts. The technological partnerships with database vendors such as Amazon (AMZN), IBM (IBM), and Teradata (TDC) may further drive the company's licensing revenues.
Going forward, Tableau Software believes that the revenues from its term and subscription licenses could gradually become a larger portion of its total revenues. This trend could be driven by the shift in the client base to cloud and subscription-related products.