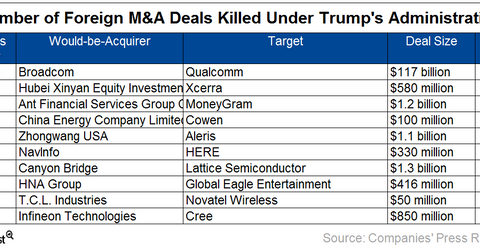 Broadcom–Qualcomm Deal and Questions about Trump's Protectionism
By Puja Tayal

Apr. 10 2018, Updated 8:00 a.m. ET
Broadcom–Qualcomm deal shows Trump's protectionist instinct
President Donald Trump blocked the Broadcom–Qualcomm (QCOM) deal, although it had not been proven that Broadcom (AVGO) has ties with China (FXI) or Huawei. Trump blocked the deal after Broadcom indicated that it would relocate to the US and pledged to maintain Qualcomm's 5G efforts. Previous administrations may have allowed the deal on these grounds, but the Trump administration has demonstrated greater protectionist instincts.
Article continues below advertisement
Trump's aim to protect American technology is blurring the lines between economic and national security while emphasizing emerging technologies like 5G. A Reuters article reported that Trump's national security team floated the idea of nationalizing 5G networks to protect US cybersecurity and economic security from potential threats from China. However, that idea was rejected.
History of presidential action against foreign investment in US firms
After the executive order regarding the deal, Trump's protectionist policies are coming under the microscope. Presidential action against foreign investment in US firms is rare and is largely driven by concerns about direct foreign investment.
Law firm Ropes & Gray noted that such presidential action has taken place only five times over the past 30 years—one was taken under President Barack Obama in 2016 and two were taken under President Trump.
Article continues below advertisement
Protectionist policies being questioned
The Committee on Foreign Investment in the United States (or CFIUS) under the Trump administration has squelched multiple foreign investment deals. However, but its action against Broadcom came as a surprise as merger deals are rarely squelched before a shareholder vote. In Broadcom's case, it looked as if the US government revoked the rights of Qualcomm's shareholders to vote for a change, stated Bernstein analyst Stacy Rasgon in a note reported by Barron's.
The Hill reported that Adam Segal, a Council on Foreign Relations emerging technologies and national security expert, welcomed Trump's decision on the Broadcom deal. However, Segal warned that previous presidents were restrained in using executive orders to block deals on the grounds of national security because it could encourage other countries to do the same.
Broadcom opposed the notion that the deal posed a national security threat. It considered the presidential order but finally withdrew its offer two days later. However, this didn't stop it from relocating its headquarters to the US. Next, we'll see why Broadcom is still keen on becoming a US-based company.