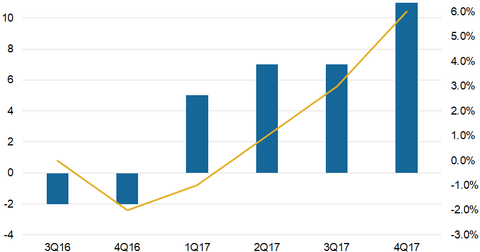 BlackRock's Retail Could Add Flows to Debt, Multi-Asset Funds
By Robert Karr

Apr. 4 2018, Published 3:25 p.m. ET
Retail investments
BlackRock's (BLK) Retail segment saw a reversal of fund flows in 1Q17, and it increased throughout the year. Retail flows could see subdued sequential growth in 1Q18 mainly due to the weaker performance of broader equities and the steep rate hike expectations that have resulted in withdrawals from debt offerings.
BlackRock's Retail segment had total AUM (assets under management) of $628 billion, or 10% of total AUM, on December 31, 2017. The segment contributed 29% of the company's total base fees during the same period, reflecting higher operating margins and the importance of division in BlackRock's overall performance.
In 4Q17, BlackRock's Retail segment added $11 billion in new fund flows, the highest in the past couple of years. In 1Q18, its inflows could range between $8 billion and $10 billion.
Article continues below advertisement
Preference for debt
BlackRock's Retail segment invested $8 billion in fixed income products and $1.1 billion in equities in 4Q17. In 1Q18, many investments could shift toward Treasuries, corporate bond offerings, and higher yields compared to equities carrying higher valuations.
The Retail segment's multi-asset income fund family also added $2 billion in 4Q17, reflecting a shift toward alternative asset classes.
Asset managers and bankers (VFH), including Goldman Sachs (GS), JPMorgan Chase (JPM), and T. Rowe Price (TROW), are adding product offerings for retail as well as alternative investment options in order to add flows and generate higher returns.
Base fees
The Retail segment could face margin pressure in 2018 owing to an expectation of weaker inflows, but retail flows are expected to remain buoyant compared to other categories. The segment managed total base fees of $858 million in 4Q17, forming 29% of the company's overall fees. The growth came from new flows and an appreciation of the holdings in equities in the multi-asset category.
BlackRock's 1Q18 could also benefit from a weaker US dollar resulting from a potential US-China trade war and lower taxes raising expectations for a higher fiscal deficit.