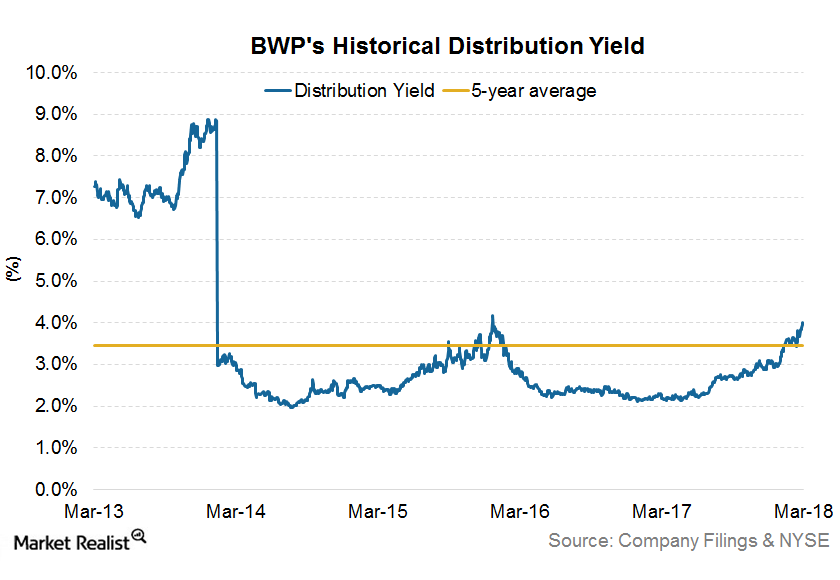 At Its All-Time Low, BWP Offers Maximum Upside Potential
By Kurt Gallon

Apr. 6 2018, Updated 1:20 p.m. ET
Recent market performance
Boardwalk Pipeline Partners (BWP), a midstream MLP mainly involved in natural gas and NGLs (natural gas liquids) transportation, saw a new all-time low recently.
Overall, the partnership has fallen 22.5% since the beginning of 2018. In comparison, BWP's peers Spectra Energy Partners (SEP), Williams Partners (WPZ), and TC PipeLines (TCP) have fallen 16.0%, 13.9%, and 36.5%, respectively.
Boardwalk Pipeline Partners' recent weakness could be related to recent sector headwinds and its weak 4Q17 earnings. BWP reported adjusted EBITDA (earnings before interest, tax, depreciation, and amortization) of $205.5 million in 4Q17 compared to $213.8 million in the same quarter of the previous year. The fall in BWP's 4Q17 earnings was due to the "restructuring of contracts with Southwestern Energy on the Partnership's Fayetteville and Greenville laterals and decreases in storage and parking and lending revenues" as noted in the related press release. The fall was partially offset by the contribution from the partnership's growth projects.
Article continues below advertisement
As far as recent sector headwinds related to the revised FERC (Federal Energy Regulatory Commission) ruling are concerned, BWP likely won't see the material impact of the ruling on its earnings in the near term. According to the related press release, "All of the firm contracts on Boardwalk's Gulf Crossing Pipeline and the majority of contracts on Texas Gas Transmission are negotiated or discounted rate agreements, which are not ordinarily affected by FERC's policy revisions."
Valuation analysis
BWP was trading at a distribution yield of 3.9% on March 30, 2018. This was higher than its one-year and five-year averages of 2.7% and 3.4%, respectively. Moreover, the partnership's forward EV-to-EBITDA (enterprise value-to-EBITDA) multiple of 7.8x is significantly lower than its one-year and five-year averages of 8.6x and 10.2x, respectively.
BWP's current valuation could reflect its flat distribution, high leverage, weak earnings, and declining throughput volumes in some regions. At the same time, BWP's current valuation could indicate a buying opportunity considering the partnership's strong natural gas–focused expansion opportunities. The partnership currently has a project backlog of $1.3 billion.
Analysts' recommendations
BWP ranks first among the top midstream companies in terms of upside potential. BWP is currently trading below the low range ($13) of analysts' target prices. The partnership's average target price of $15.4 implies a ~54% upside potential from its current price level. Barclays last upgraded BWP to a "hold" from a "sell." Now, 54.5% of analysts rate BWP as a "hold," and the remaining 45.4% rate it as a "buy."
In the next article, we'll look into the upside potential of Shell Midstream Partners (SHLX).