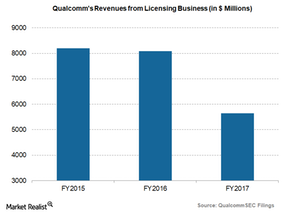 Apple and Qualcomm: Their Fights over Patent Infringement
By Sophia Nicholson

Apr. 16 2018, Updated 9:01 a.m. ET
Apple and Qualcomm chips
Apple (AAPL) has reportedly replaced Qualcomm (QCOM) and recently partnered with Intel (INTC) to be its modem chip supplier for its upcoming iPhone models. The move seems to be the outcome of Apple's year-long legal battle with Qualcomm over licensing. Apple was dependent on Qualcomm modems in its hardware until the release of its iPhone 7 in September 2016.
Article continues below advertisement
Apple's attacks and counterattacks by Qualcomm
Technology biggies Apple and Qualcomm are involved in multiple lawsuits against each other. In January 2017, Apple accused Qualcomm of charging higher fees for using its technologies and sued the company in the United States, the United Kingdom, and China. Qualcomm was also reportedly fined nearly $1.2 billion in Europe for paying Apple to use its mobile chips over its competitors. Qualcomm had reportedly been paying Apple from 2011 to 2016.
According to a filing in federal court in San Diego, there is alleged evidence against Qualcomm that it is operating an illegal business model and has been engaged in anti-competitive practices to extract patent royalties for its chips.
In November 2017, Apple alleged that Qualcomm's Snapdragon 800 and 820 chips infringed on its eight patents related to managing battery life. Qualcomm reacted with three patent infringement cases against Apple, claiming that Apple was using 16 of Qualcomm's patents without permission. The battle became worse after Qualcomm reportedly called for a ban of both the sale and manufacturing of iPhones in China and then filed a lawsuit seeking a ban of certain iPhone models from being sold in the United States.
Qualcomm's earnings got a hit from Apple disputes
Apple has withheld royalty payments of about $1 billion to Qualcomm since April 2017.
Qualcomm's ongoing licensing disputes are hurting its earnings and revenues since Qualcomm profits significantly from its licensing technology. Qualcomm also sells its technology for premium smartphones such as Samsung's Galaxy and Google's (GOOGL) Pixel.
In fiscal 2017, which ended September 2017, Qualcomm had to pay a hefty fine to the Korea Fair Trade Commission for anti-competitive practices. Qualcomm also lost patent litigation to BlackBerry (BB), which affected its revenues.