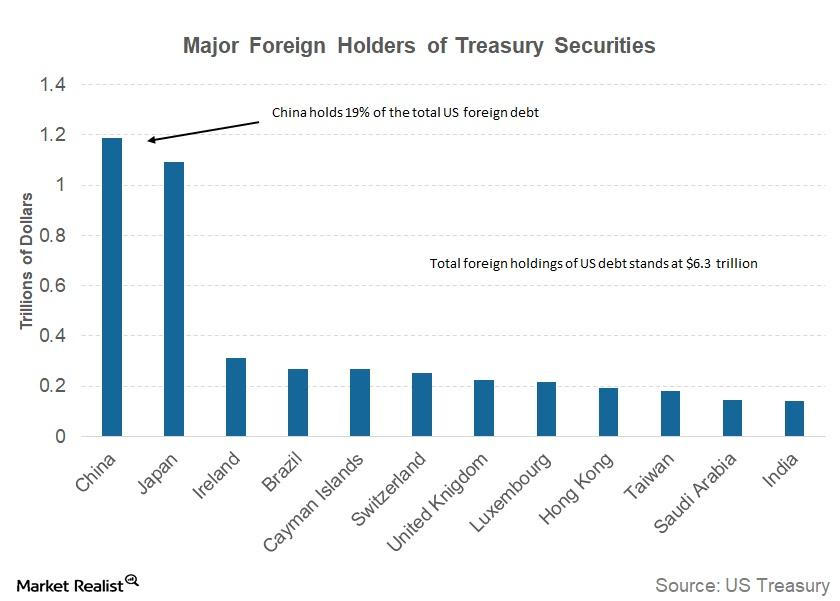 An Economic Arrow in China's Quiver
By Ricky Cove

Apr. 9 2018, Updated 8:11 a.m. ET
A weapon of economic destruction
At the beginning of 2018, there were reports that China was considering stopping buying US Treasuries (GOVT). This report was published on January 10 and led to a sharp rise in the US bond yields, especially in the ten-year (IEF) bonds. As China is the largest foreign holder of US debt, any decline in purchases or even selling by China (FXI) could mean huge trouble for the US bond markets (BND).
Article continues below advertisement
Why China owns so much US debt
China owns close to 20% of total outstanding US debt, and the total value of these securities is close to $1.2 trillion. To put it simply, China is lending the US money to buy its products and helping the economic progress of the Chinese economy. This in turn is increasing the trade deficit between the US and China, a big concern for President Trump. Trump has said that the trade deficit needs to be reduced.
What will happen if China sells?
If such a large holder of debt reduces purchases, demand for Treasuries could fall and investors could demand higher yields for their investment in US Treasuries. This was the key reason for yields to shoot up after the news was reported in January. If China decides to use this weapon of economic destruction, it could lead to another global financial crisis. Bond prices (IVV) in the US and across the globe would plummet because of such redemption. Borrowing costs for companies would increase and impact their profit margins, which would have an impact on equity markets.