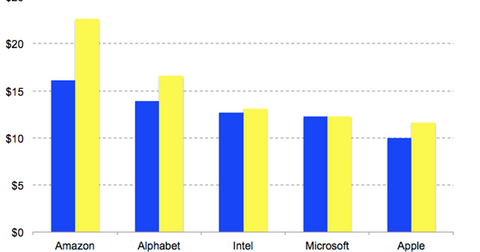 Amazon's Spending on Research and Development Keeps Growing
By Sanmit Amin

Updated
Amazon spent $22.6 billion on R&D in 2017
Tech (technology) giant Amazon (AMZN) spent more money on research and development (or R&D) in 2017 than any other American company. It entered into a number of new industries in 2017 and spent a whopping $22.6 billion on R&D, according to FactSet and reported by Recode. That compares to $16.1 billion in 2016.
Amazon has invested heavily in its fastest-growing segments, AWS (Amazon Web Services) and Alexa, its digital assistant.
Google parent Alphabet (GOOGL), Intel (INTC), Microsoft (MSFT), and Apple were the other top US companies in terms of R&D spending in 2017.
Article continues below advertisement
Amazon's R&D spending is growing faster than its close rivals
Amazon's R&D expenses rose at a much greater pace than its peers. Facebook (FB) was in the ninth spot overall and sixth among tech stocks, with R&D spending of $7.8 billion in 2017. That's a 32% rise from the previous year.
Amazon's hunger for growth, as suggested by its increasing R&D expenses, could be the reason the stock has become an investor darling. The stock surged more than 55% last year and more than 20% year-to-date, despite the recent market turmoil. The company has a track record of reinvesting its profits in new segments.
Amazon will soon build a second headquarters the same size of the one in Seattle. It has narrowed down its list of possible cities in North America to 20.
Be sure to check out all the data we've added to our quote pages. Now you can get a valuation snapshot, earnings and revenue estimates, and historical data, as well as dividend information. Take a look!