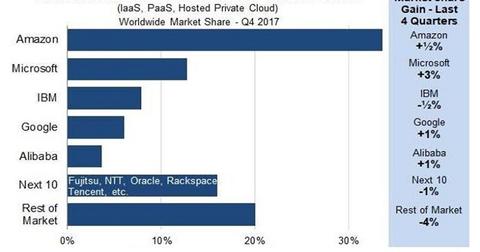 Amazon's Healthcare Venture: An Opportunity for Microsoft?
By Ruchi Gupta

Apr. 23 2018, Updated 9:50 p.m. ET
Microsoft keen to lure health companies to Azure
In the second week of April 2018, St. Jude Children's Research Hospital announced the launch of the St. Jude Cloud, which it described as the world's largest public store of pediatric cancer genomics data. The St. Jude Cloud runs on Microsoft's (MSFT) Azure cloud computing platform.
Hosting the St. Jude Cloud seems to be a big win for Microsoft in its push to attract more healthcare companies to its cloud. In its push for cloud business in the health sector, Microsoft may try to take advantage of the complication created by Amazon's interest in offering health services.
Article continues below advertisement
Amazon looking to offer health services
In January, Amazon (AMZN), JPMorgan Chase (JPM), and Berkshire Hathaway (BRK.A) (BRK.B) announced they were teaming up on a health insurance program for their employees. They talked about improving employee satisfaction and reducing costs. The news about Amazon teaming up on health program sent the stocks of health insurers such as Anthem (ANTM) and Cigna (CI) sliding.
Alienating potential healthcare customers
Amazon's interest in providing health services could cause some healthcare companies to keep off its cloud over concerns of working with a competitor. This reluctance by healthcare companies to run their workloads on Amazon's cloud could create an opening for Microsoft to lure them over to its cloud.
Microsoft's share of the global cloud computing market expanded faster than Amazon's share in 2017, according to Synergy Research. However, Amazon is still the dominant cloud provider, commanding 34% of the global market versus Microsoft's 13%.