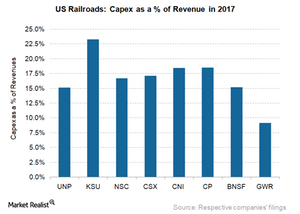 Will New Tax Code Fuel US Railroads in the Coming Quarters?
By Samuel Prince

Mar. 22 2018, Updated 6:32 a.m. ET
US railroads under Trump administration
With the passage of the Tax Cuts and Jobs Act, the overall economic outlook seems to be bullish. Trump's pro-growth agenda in the form of a 14% cut in corporate tax and deregulation have proved major turning points for the US economy.
The corporate tax cuts from 35% to 21% could result in huge savings for US companies including railroads (IYJ). Note that US railroads such as Norfolk Southern (NSC) and CSX (CSX) receive almost 100% of their revenue from the United States. Thus, a 14% reduction in the corporate tax rate would significantly boost their cash flows. The new tax reforms provide incentives to companies to repatriate accumulated profits.
Article continues below advertisement
New tax code and railroads
According to a study conducted by New York University, trucking companies pay higher taxes compared with their railroad counterparts. The trucking companies were subjected to an average tax rate of 26.7% in 2017, while railroads had 22.2% in the same year.
Airlines and railroads in the US incur heavy capital expenditure. In accordance with the new tax laws, these companies will be able to deduct their capital expenditure from their taxable income in the same fiscal year. This is a solid gain for the railroad stocks given their capital-intensive nature. Among the Class I railroads, Union Pacific (UNP) and Canadian Pacific Railway (CP) has reiterated higher investment in capital assets in 2018.
However, we should also note that growth in YoY (year-over-year) capital expenditure will only drive the top line of railroads. Notably, railroads such as CSX (CSX) and Canadian Pacific Railway (CP) announced dividend increases in 2018 in tune with tax savings. We believe that had the railroads announced higher capital expenditure this year, it would have predicted top-line growth for the companies. However, the new tax code is most likely to benefit bottom lines and thereby drive the stock price without causing revenue growth.
In the last part, we'll compare valuations of major US railroads.