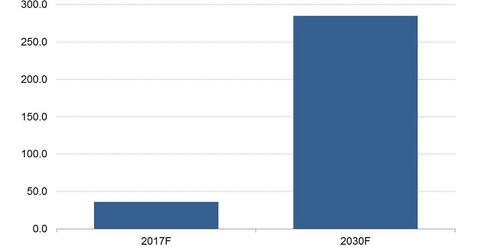 Why Vodafone Is Exiting Qatar Joint Venture
By Ruchi Gupta

Updated
Vodafone to keep brand in Qatar
Vodafone (VOD) is selling its stake in Vodafone Qatar, a joint venture it co-owns with the Qatar Foundation and other investors. Vodafone owns 51% of the Qatar unit, while the Qatar Foundation owns 45% of the business. The rest is owned by the government of Qatar and other investors, according to Reuters.
Vodafone is selling its stake in the Qatar unit to the Qatar Foundation, which is paying about $371 million for the stake. But the Qatar unit will continue to operate under the Vodafone brand even after Vodafone exits the joint venture.
Article continues below advertisement
Qatar faces economic sanctions
Vodafone's exit from the Qatar joint venture seems to be part of the British telecom giant's portfolio rebalancing, especially by selling out of businesses that it doesn't control or businesses that don't fit with its long-term goal. But it's worth noting that Vodafone is exiting the Qatar venture at a time when Qatar's relationships with its Arab neighbors are difficult. A group of Arab countries led by Saudi Arabia hit Qatar with economic sanctions in the middle of last year. It's unclear whether economic embargoes played a role in Vodafone selling its stake in the Qatar unit.
Verizon showed interest in Qatar license
Qatar and the SoftBank fund
Vodafone is also exiting its Qatar joint venture at a time when Qatar is stepping up efforts to diversify its economy away from oil revenue. In 2016, Qatar was reported to be considering joining SoftBank's (SFTBY) $100 billion global technology fund to diversify its economy. SoftBank, the parent of Sprint (S), is investing in technologies such as ride-hailing services. It took a stake in Uber earlier this year. Goldman Sachs (GS) predicts that the global ride-hailing industry will grow to $285 billion in revenues by 2030.