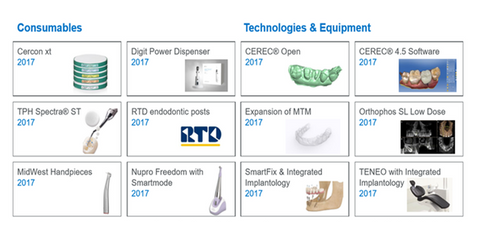 Why Innovation Matters to Dentsply Sirona—Now More Than Ever
By Sarah Collins

Mar. 20 2018, Updated 6:31 a.m. ET
Overview
Dentsply Sirona (XRAY) has an industry-leading R&D (research and development) budget with more than 600 scientists and engineers. The company invests $125 million per year on R&D. It invested ~4% of its total sales toward R&D in fiscal 2017.
The company boasts of the largest R&D platform in the industry. Each year, the company launches more than 30 products, and Dentsply Sirona is currently engaged in more than 50 clinical studies.
By comparison, peers Align Technology (ALGN), Zimmer Biomet Holdings (ZBH), and Danaher (DHR) invested ~6.6%, ~4.7%, and ~6.2% of their total sales toward R&D spending in fiscal 2017.
Article continues below advertisement
According to Dentsply Sirona, it has a competitive edge over its peers to enable a more efficient delivery of innovation in the market due to its two core strengths: geographical presence in over 120 countries, with exceptional sales infrastructure, and the broadest clinical education platform available. Dentsply Sirona provides training to more than 350,000 professionals across 80 countries around the world.
Recent product launches
In December 2017, Dentsply Sirona launched its Digit Power Dispenser in the restorative category. The product helps develop digital impressions faster and enables increased efficiency for practitioners and patients who receive better-fitting restorations. 
Notably, this dispenser uses Dentsply Sirona's Aquasil Ultra+ impression material. The product has been found to improve the precision delivery experience by ~96% of early users. Approximately 76% of early users found that the device helped improve their procedure experience and provided better-fitting restorations. 
According to Dentsply Sirona, the conventional dispenser's dispensing wash material costs ~10% more than the cost of the cartridges for its digit power dispenser.
Thus, the launch has provided a key product expected to generate significant market share in the company's restorative business.