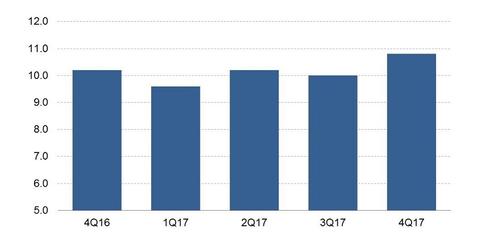 Why Idea of Vodafone-Liberty Deal Irritates T-Mobile Parent
By Ruchi Gupta

Updated
Vodafone-Liberty explore asset transaction
The idea of Vodafone (VOD) buying assets from Liberty Global (LBTYA) in certain European markets doesn't sit well with T-Mobile (TMUS) parent Deutsche Telekom. Vodafone and Liberty are exploring a deal where Vodafone could end up acquiring Liberty's assets in European markets where they both operate. Vodafone and Liberty operations overlap in European markets such as Germany, Romania, and the Czech Republic. The two have a joint venture in the Netherlands.
Headquartered in Bonn, Germany, Deutsche Telekom (or DT) is Europe's largest telecom company by revenue. Vodafone is the world's second-largest mobile operator by subscribers behind China Mobile (CHL).
Article continues below advertisement
DT fears rise of television monopoly
DT hopes regulators will block Vodafone from buying assets from Liberty, particularly in Germany where it claims there was a risk of Vodafone becoming a cable television monopoly if it took Liberty assets in the country. Thus, DT thinks Vodafone's taking of Liberty assets would destroy competition.
However, Vodafone doesn't understand why DT would have a problem with it buying some assets from Liberty. Vodafone argues that DT already has a strong hold on Germany's telecom market.
Deal-making in telecom sector
In December, DT agreed to acquire Liberty's Austrian business for more than $2.0 billion. DT also explored merging its US subsidiary, T-Mobile, with its rival Sprint (S) last year. However, the talks ended without a deal. T-Mobile's revenue increased 5.1% year-over-year to $10.8 billion in 4Q17.
There have been many deals in the telecom sector in recent years as operators look to diversify their revenue streams and strengthen their positions in key markets. In the US, AT&T (T) is fighting the government's attempt to block its proposed merger with Time Warner (TWX).