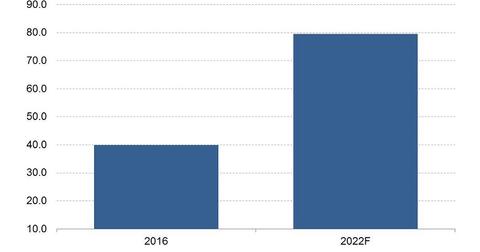 Why Google Reversed the Nest Spinoff
By Ruchi Gupta

Mar. 13 2018, Updated 6:32 a.m. ET
Google paid $3.2 billion for Nest
Google, the largest and most profitable Alphabet (GOOGL) unit, announced last month that it was bringing Nest back into its fold. Why?
"The goal is to supercharge Nest's mission: to create a more thoughtful home, one that takes care of the people inside it and the world around it," said Rick Osterloh, senior vice president of Google's hardware team, under which Nest will now operate. Google acquired Nest in 2014 for $3.2 billion. Under the 2015 corporate reorganization that resulted in the creation of Alphabet, Nest was spun off into an independent company under Alphabet's Other Bets segment.
Article continues below advertisement
Other Bets revenue increased 56%
In 4Q17, Alphabet's Other Bets revenue grew 56.1% year-over-year to $409 million, with Nest being cited among drivers of the growth.
Nest makes smart-home products, which include programmable thermostats, smoke detectors, and connected security cameras. Reversing the Nest spinoff could allow Google to align its hardware operations to foster collaborations and speed up product development.
With Amazon (AMZN) waging a hardware retail war, and Facebook (FB), Microsoft (MSFT), and Alibaba (BABA) pushing hard into the artificial intelligence-powered product market, Google saw a need to consolidate its hardware efforts to compete.
A ~$80 billion revenue opportunity in the home automation market
Google is looking to hardware to secure the future of its advertising business and as a way to diversify its revenue streams beyond advertising. As for diversifying revenue sources, the smart home market is promising for Google's hardware group. According to MarketsandMarkets, global sales of home automation systems could hit $79.6 billion by 2022, up from $39.9 billion in 2016.