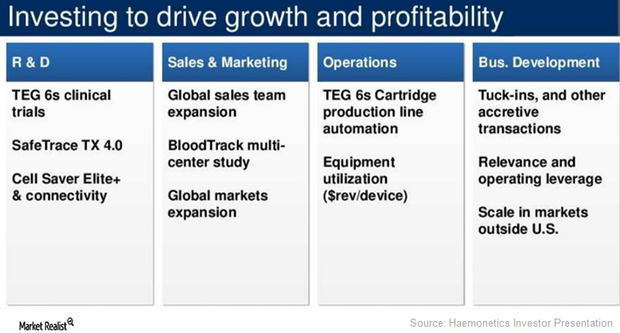 What Could Boost Haemonetics' Revenues in Future Years
By Margaret Patrick

Mar. 22 2018, Updated 7:30 a.m. ET
Transfusion management trends
Haemonetics (HAE) expects its transfusion management business to grow at a compound annual growth rate (or CAGR) in the low to mid teens. The company is focusing on leveraging its existing technological expertise and penetrating deeper into certain markets.
Haemonetics has planned to opt for a key account strategy. The company aims to strengthen its worldwide presence by expanding its global sales team and partnering with other software vendors and players in this segment, like Helmer.
Plus, Haemonetics also plans to develop a software solution, Fusion, that would integrate its existing products, SafeTrace Tx and BloodTrack.
Article continues below advertisement
The above presentation slide shows Haemonetics' investment strategy for its overall hospital business in greater detail. The fast-growing transfusion management and hemostasis management segments are expected to enable Haemonetics to compete effectively with other medtech players, such as Medtronic (MDT), Stryker (SYK), and Abbott Laboratories (ABT) for investor dollars in fiscal 2018.
Hemostasis management
In 3Q18, Haemonetics reported 16% YoY (year-over-year) revenue growth for its hemostasis management segment, while revenues rose 14% YoY for this segment in fiscal 2018 on a year-to-date (or YTD) basis. Haemonetics is currently a leader in the hemostasis management segment, which includes products used to assess bleeding in patients, the risk of thrombosis, and the functioning of antithrombotic therapies. The company has projected revenue potential above $1.0 billion from this segment, mainly on account of the rapid growth rate in the viscoelastic testing market.
Haemonetics aims to leverage its first mover advantage in this segment, and it's striving to accelerate the adoption of products like TEG 5000, TEG6s, and TEG Manager. The company has been focusing on increasing trust in its devices as well as making them easier to use, which would translate into faster adoption of the company's hemostasis management devices. Plus, the company aims to expand the approved label for these devices.