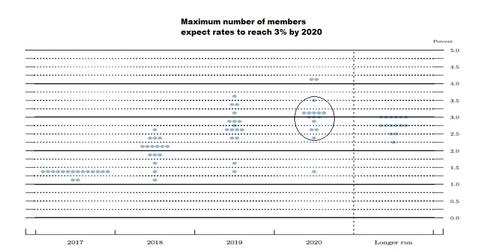 Understanding the Changes in the Fed's Dot Plot
By Ricky Cove

Updated
FOMC upgrades interest rate dot plot
The FOMC's (Federal Open Market Committee) March meeting concluded on Wednesday, March 21, 2018. The Fed decided to increase the federal funds rate by 0.25%. The increase in the interest rate seems to have been completely priced in, but the markets were eagerly awaiting the Fed's dot plot and summary of economic projections.
US interest rates have a profound impact on the global financial markets (ACWI), and thus investors remain focused on any changes to the dot plot. The Fed dot plot is a forecast for future interest rate hikes, which is constructed using projections of the 15 members of the FOMC and is released four times per year. A surprise change in the dot plot usually has a strong impact on the global bond (BND) and currency (UUP) markets, and depending on the state of the business cycle, the impact could be felt in the equity markets as well.
Article continues below advertisement
Changes from the December dot plot
The most anticipated change was for the 2018 forecast, which was left unchanged from the December reading of 2.1%, which leaves two more hikes in 2018. The median expectations for 2019 and 2020, however, have been upgraded. The median Fed funds rate for 2019 now stands at 2.9% compared to 2.7% in the December dot plot. Similarly, the 2020 projection was upgraded from 3.1% to 3.4%. The long-run federal funds rate range was upgraded from 2.3%–3% to 2.3%–3.5%.
What to make of the dot plot upgrade
The dot plot has been upgraded for 2019 and 2020 but was left unchanged for 2018. That means the Fed could only increase rates two more times this year, an outcome that should have been welcomed by equity market (VOO) investors since a faster pace for rate hikes could increase borrowing costs for industries (XLI) and businesses. The upgrades for 2019 and 2020 might not have spooked investors since they are usually myopic in their approach to the markets.